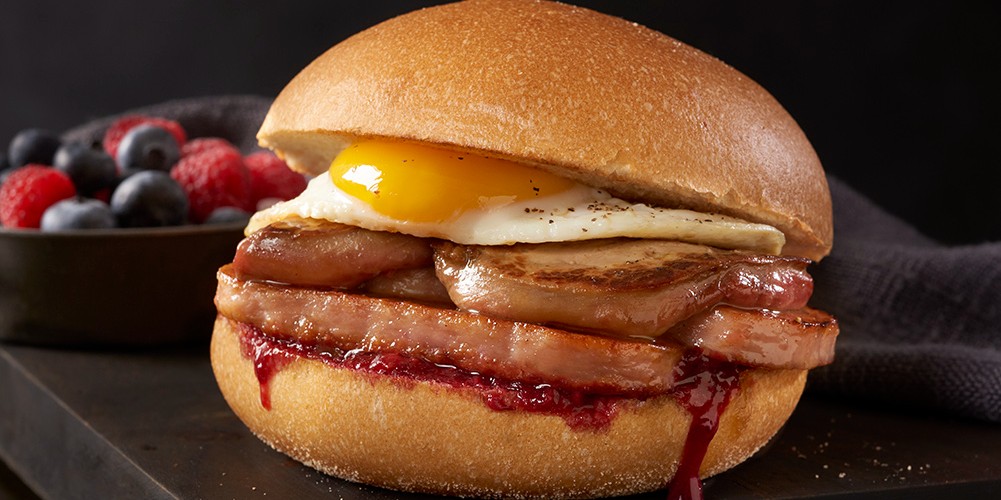 US Blog
Customers Want Burgers for Breakfast
In our recent blog post talking about the foodservice trends we expect in 2022, we discussed consumers returning to restaurants for breakfast. Operators who stopped or scaled back their morning offerings during the pandemic now have a golden opportunity to bring in new customers. For those who are not interested in trotting out eggs, bacon, and pancakes, we'd like to recommend a less traditional breakfast option: burgers.
A new report from Datassential shows that the market for breakfast burgers is ripe for the taking. Their survey discovered that 41 percent of consumers say they're interested in breakfast burgers, but only 20 percent of operators currently offer them on their menu. That makes them an intriguing menu offering for foodservice operators looking to attract new customers and stand out from the competition.
Interest in breakfast is also greater among younger generations. 54 percent of millennials say they're interested in an early morning burger, compared to only 22 percent of Baby Boomers who said the same. Therefore, a restaurant that serves or targets a younger clientele should consider giving them a shot.
Just this month, Texas-based fast food chain Whataburger announced they were bringing their breakfast burger back to menus. Whataburger's Chief Marketing Officer Rich Scheffler attests to the popularity of this option, saying, "The Breakfast Burger is one of the most popular limited-time breakfast offers we've ever introduced." So whether operators own one, dozens, or hundreds of restaurants, breakfast burgers can be a hit.
Restaurants that don't offer burgers should still investigate sandwiches or similar handheld offerings to fill this niche. Sandwiches currently appear on 51 percent of all breakfast menus, and that number has grown by three percent in the past four years. Other breakfast handhelds, like burritos, are also growing in popularity while traditional menu items, like French toast and bagels, are on the decline.
The sandwiches don't need to be complicated either. Many operators are seeing success adding a simple poached or over easy egg on toast as a breakfast offering. While many may roll their eyes at this, avocado toast remains an undeniable trend with 2600 percent growth over the past four years.
With so many restaurants making eggs, bacon, and sausage, operators should consider breakfast burgers as a unique way to stand out for early morning risers.
---
Learn how artisan bread can improve customer experience, increase social media attention, or simply deliver the taste and flavor your customers will not forget in 2022. Download our whitepaper to learn more.
Euro-Bake USA is an artisanal bread manufacturer serving the United States for over 25 years. Our selection of par-baked and fully-baked breads contain all-natural ingredients and no chemical preservatives. View our products or contact us today.
January 18, 2022