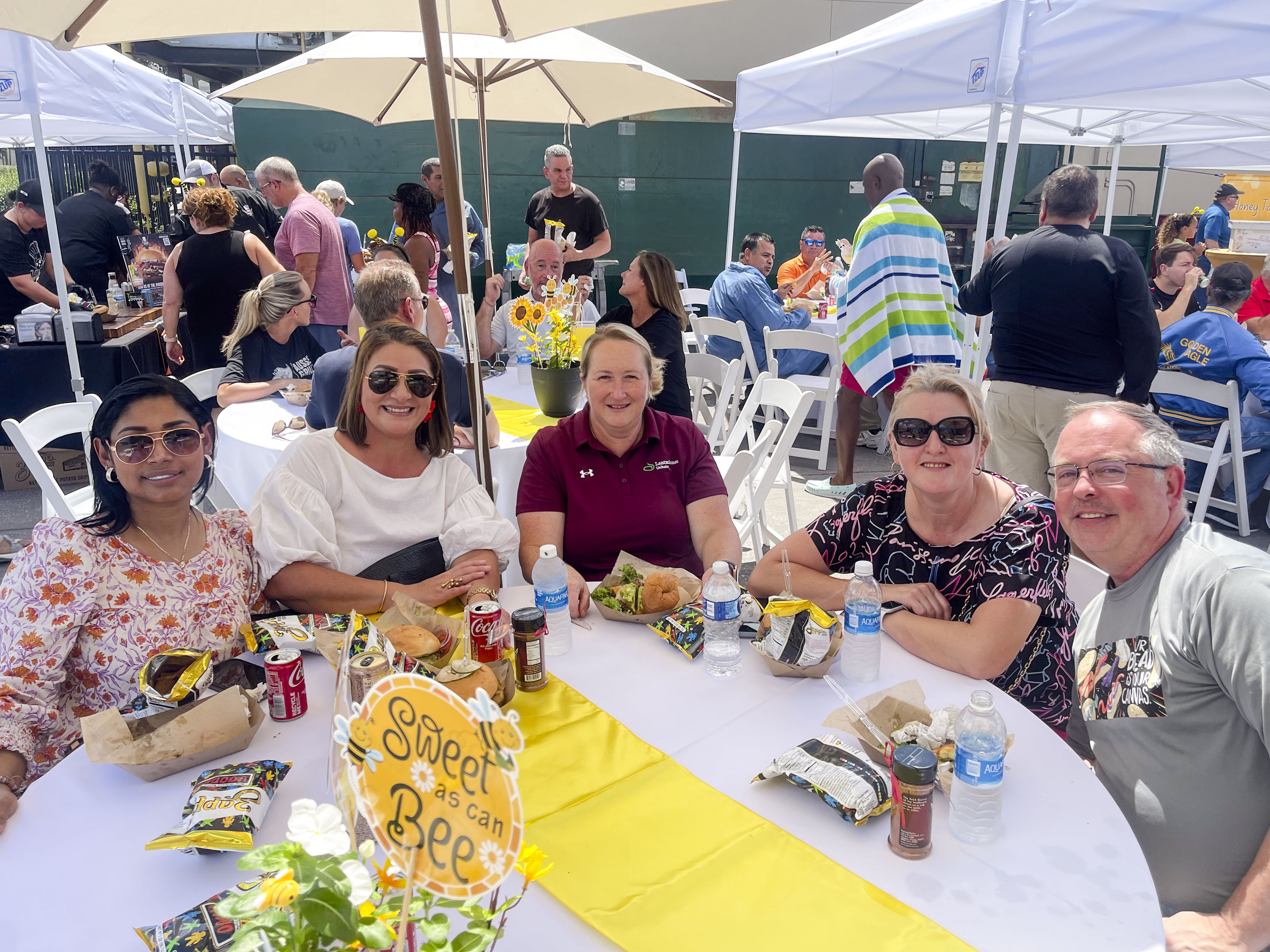 US Blog
Bee Grand Opening Event
We had an un-bee-lievable time at our Bee Grand Opening Event! In celebration of joining the Bee Downtown 'Bee Team', we welcomed our new fuzzy friends at our Grand Opening celebration on Friday, July 14th. Employees and guests were invited to meet the bees and their keepers, taste honey, take home jars of honey, enter raffles for sweet bee swag, and so much more.
During this event, we welcomed our bakery team, local clients, charitable partners, and others from our local community to visit our bakery for the opportunity to meet members from Bee Downtown, learn about the importance of "fuzzy" friends, and view our new branded beehives on display. Our partnership allows us to support sustainable urban agriculture and cultivate an appreciation for the importance of pollinators within our bakery and our local community of St. Petersburg, FL. .

Partnership with Bee Downtown
Bees lie at the heart of our survival. They pollinate 1 in 3 bites of food we eat and are essential to the health and prosperity of countless ecosystems. However, bees are in peril. Honey bee populations have been declining, according to the National Agricultural Statistics Service. And that's a big deal since honey bees perform about 80 percent of all pollination worldwide. We partnered with Bee Downtown to support sustainable urban agriculture and cultivate an appreciation for the importance of pollinators at our bakery in St. Petersburg, FL. Together, we are protecting bees, building habitat, and strengthening our workplace and local community.
Bee Downtown installs and maintains beehives on corporate campuses across the southeast while simultaneously providing year-round employee engagement and leadership development programming to many of America's leading corporations. Bee Downtown now operates over 500 hives with more than 100 of America's Leading Corporations through their Corporate Hive Program in Raleigh/Durham, Atlanta, Charlotte, Richmond, DC, Tampa, Orlando, and more coming soon.
Through our partnership, Lantmännen Unibake USA is able support the ecosystem, provide employee engagement, and strengthen our community, all while helping beautify the city of St. Petersburg, FL. Bee Downtown installed three hand-painted and company branded hives on-site at our bakery to extend our sustainable initiatives to educate employees and the community on the environmental and economic impact of pollinators. Now, we have the ability to create unique experiences that allow employees and the community to learn and engage with bees, agriculture, each other and their workplace.
A Buzzing Celebration
We had an un-bee-lievable time celebrating our new sustainable initiative and partnership with Bee Downtown by gathering together for buzzing activities, delicious honey-infused burgers from VooDoo Chef, and a lot of fun in the sun!
Charity Dunk Tank
Let's make a splash for a great cause! At the Bee Grand Opening Event, we surprised our employees with the opportunity to dunk their managers for a great cause. We rented our charity dunk tank from Rent-All City to provide a fun activity for our employees and to raise money to support one of our charity partners, St. Vincent de Paul CARES (SVdP CARES).
SVdP CARES is a non-profit organization committed to ending homelessness: making it rare, brief, and one-time. With "Housing First" principles at the core, all SVdP CARES programs are built on the belief that everyone has the right to live in dignified and affordable housing with a healthy disregard for all community-perceived barriers to housing including employment history, criminal/credit background, mental health, addiction, or religious practices. SVdP CARES works to rapidly house those experiencing homelessness within 30 days and concurrently connect them to resources and stabilization support services to assist their needs. SVdP CARES serves 19 counties across 7,678+ square miles of Florida including Charlotte, Citrus, Collier, Desoto, Hardee, Hernando, Highlands, Hillsborough, Lake, Lee, Manatee, Orange, Osceola, Pasco, Pinellas, Polk, Sarasota, Seminole, and Sumter counties.
When it comes to having fun in the sun, our employees did not hesitate when it came to dunking their managers. Thanks to the help of our employees and guests, we raised $835.00 and all proceeds will be donated to SVdP Cares.
Name The Queen Bees Raffle
When it came to naming our three queen bees, we asked all our employees to help by submitting names into our "Name the Queen Bees" raffle for the chance to win a prize. Throughout the event, employees had the opportunity to submit a name into the raffle basket to be selected to win one of our three prizes:
VooDoo Chef Foundation Gift Basket - includes beehive basket with (2) VooDoo Bash Regular Tickets, large VooDoo "Red" Southwest seasoning bottle, VooDoo pin, (2) Euro-Bake drawstring backpacks, and (2) Euro-Bake Water Bottles to rock at the Bash.
Bloomin' Brands Gift Basket - includes beehive basket with $100.00 Outback Steakhouse gift card, Euro-Bake drawstring backpack, and a small VooDoo "Red" Southwest seasoning bottle with discount coupon to VooDoo Bash.
The Chelsea St. Pete Gift Basket - includes beehive basket with bee-themed goodies, $50.00 gift card to The Chelsea St. Pete, and a Chelsea St. Pete tote bag.


The following week, our internal Bee Committee selected the top five names and sent a poll to the rest of the employees to select the three winning names. Our Queen Bees are named: Beeatrice, Sunflower and Maya!


Hot Honey VooDoo-cado Burgers
VooDoo Chef fired up the grill for our grand opening event to provide food while our employees and guests mingled and enjoyed the bee festivities. VooDoo Chef crafted a delicious Hot Honey VooDoo-cado burger with a "VooDoo Red" Southwest seasoned burger patty basted with house made hot honey, and topped with cheddar, Monterey jack cheese, smashed avocado, lettuce, tomato, onion, on a honey toasted Euro-Bake Brioche Bun. This burger was just a taste of what's to come at the upcoming VooDoo Bash burger competition on August 19th, sponsored by Euro-Bake USA! Buy tickets to support VooDoo Chef Foundation and their mission to inspire the community with food and to promote education for students who aspire to have careers in the Foodservice & Hospitality Industry. Learn more at VooDooChefFoundation.com.
---
Interested in learning more about our products? View our 2023 Digital Product Catalog for more information and recipe inspiration. If you're interested in viewing more trends, insights, recipes and ideas, follow us on LinkedIn, Instagram, Facebook and Pinterest.
@lantmannenunibakeusa @eurobakeusa @schulstadusa
July 18, 2023