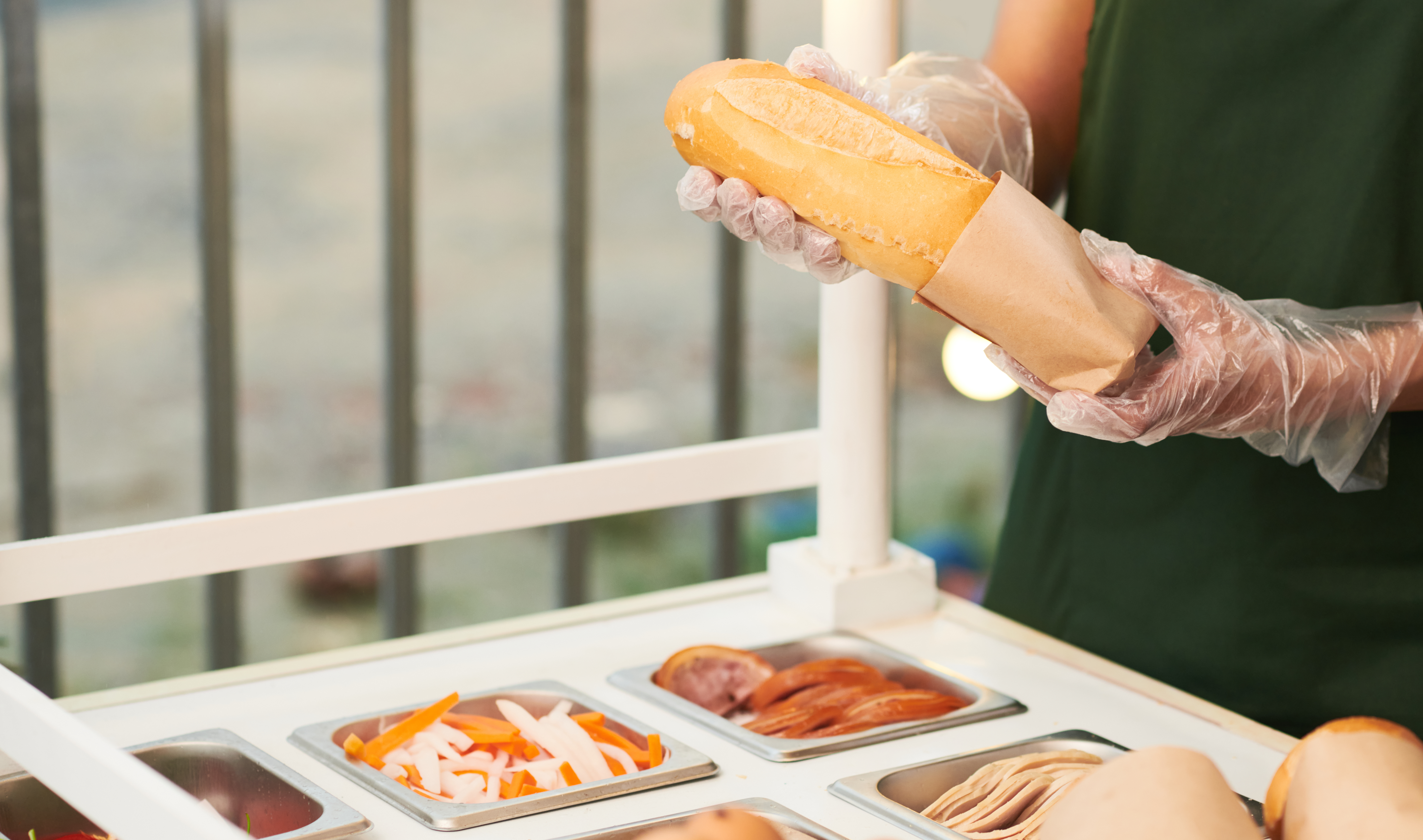 US Blog
Sandwich Consumption Habits 2023
The concept of having a filling between two pieces of bread was popularized in England by John Montagu, the 4th Earl of Sandwich, where he became the namesake for the food we call the "sandwich". Overtime, the sandwich took on many forms and consumers' unconditional love for sandwiches grew. Consumers are increasingly turning to sandwiches for the key reasons of speed, versatility, and customizability. They make the perfect dish for any meal whether it's breakfast, lunch, dinner or snack time.

Sandwich Consumption Insights
Did you know sandwich eaters eat an average of 72 sandwiches in a typical year? What's more, overall sandwich consumption is increasing, driven by younger and male consumers. Whether it's for breakfast, lunch, dinner, or a snack, sandwiches are chosen over other foods because they are quick, versatile, and customizable. Boomers love them because they are easy to make and eat, whereas the younger consumers are more influenced by their versatility, low cost, health properties, and unique offerings. Overall, consumer consumption of sandwiches is increasing based on recent reports. According to the new Keynote Sandwich report from Datassential, over twice as many consumers overall have been eating more sandwiches in the last year as have been eating fewer.
Although sandwich consumption overall is growing, sandwiches are much more likely to be eaten at home and the recent growth is coming from at-home sandwiches rather than those purchased at foodservice. However, 52% of operators say their sandwich sales increased last year (just 6% saw a decrease). Given most sandwiches are enjoyed at home, retailers have an advantage since 71% of last sandwiches were made or assembled at home from ingredients purchased at the grocery store. Retailers and retail brands should work together to create and promote easy and eye-catching sandwich recipes to encourage consumers to purchase their products. Additionally, operators should focus on what separates their sandwiches from those that can be easily made at home – such as hot sandwiches or those made with more premium/unique ingredients that aren't in most at-home pantries.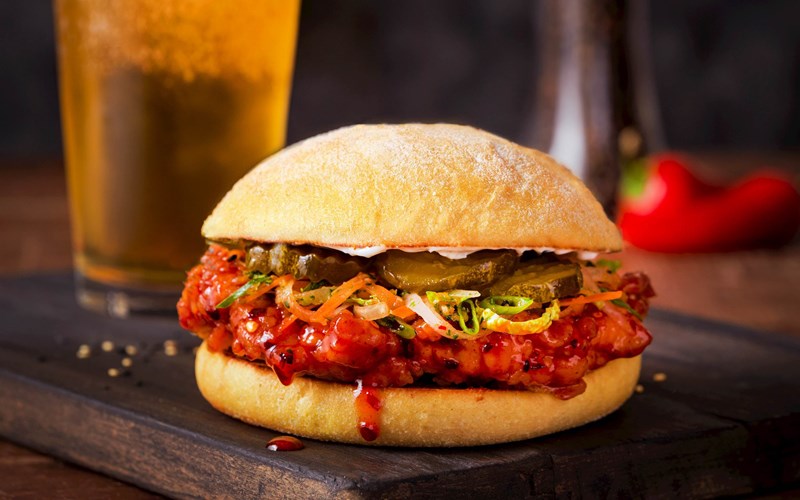 Operators should focus on what separates their sandwiches from those that can easily be made at home. 64% of hot sandwiches are eaten away from home, and flavor and taste are the driving forces. This Korean Fried Chicken sandwich features boneless chicken thighs infused with spicy gochujang sauce and fried to perfection, topped with Korean BBQ sauce, kewpie mayonnaise, and zesty kimchi slaw. Made with Euro-Bake Potato Bun.
*Insights from Datassential, Keynote Report on Sandwiches
At-Home Sandwiches
In the comfort of our home is where sandwiches find their special place. Over three times as many consumers increased their at-home sandwich consumption in the last year as decreased, and 91% of sandwich eaters have sandwiches at home monthly or more often (10% have one every day!).
Did you know 91% of sandwich-eating consumers have purchased sandwich components in the last year? When it comes to shopping for sandwich components, healthier ingredients and longer shelf life are what consumers most want out of their at-home sandwich ingredients. Freshly sliced, familiar brand, and specific health call-outs are key for consumers when shopping for sandwich proteins and cheeses. Additionally, freshness and brand matter heavily for breads, but so do health-related attributes. Nearly two thirds of consumers are willing to pay more or are more likely to purchase carriers that are made with whole grains, high in fiber, or are fortified. However, new ingredient combination ideas have appeal with over one quarter of consumers. This gives retail brands the opportunity to capitalize on the emerging interest of unique sandwich builds and viral sandwich recipe ideas.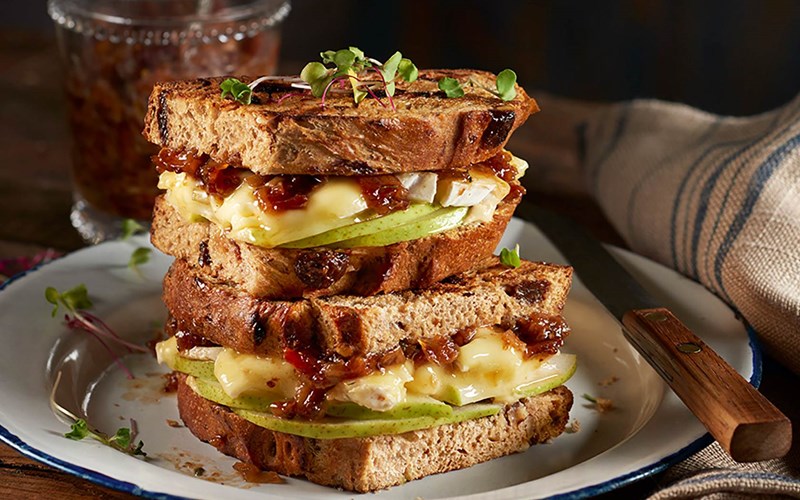 Grilled cheese is one of the top four most consumed sandwiches. Our Brie, Pear & Bacon Jam Grilled Cheese is made with our European-style bread
made with hazelnuts, sunflower seeds, pumpkin seeds, apple pieces, raisins, dates, cranberries, flax seeds and wheat germ. Non-GMO Certified,
50%+ Whole Grain Stamp, and made with all natural and vegetarian ingredients. Great for In-Store Bakeries!
Away From Home Sandwiches
Consumers are most likely to eat away-from-home (AFH) sandwiches from limited service restaurants which are known for their speed and convenience. QSRs are the most heavily used foodservice location for sandwiches, followed closely by fast casual, casual dining, and midscale restaurants. In fact, 22% of last AFH sandwiches were from a QSR and 12% from a fast casual restaurant. However, full-service restaurants are also a sandwich source – 19% of last AFH sandwiches were from casual dining restaurants which are known for their service and ambiance.
Although current consumption is highest at LSRs, there is consumer interest in buying sandwiches at many other foodservice locations. Evidence shows a very high interest in buying sandwiches from c-stores, likely because they are so portable, fast, and convenient. However, with the right high-end ingredients, preparation, or presentation, fine dining locations are also seeing a high interest for sandwiches because the operators are demonstrating how versatile a sandwich can be with innovative techniques and mouthwatering flavors.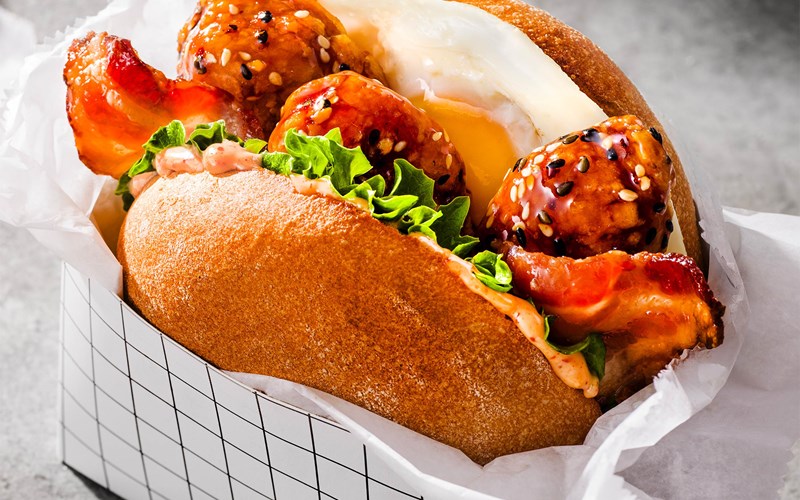 As sweet and spicy fusion flavors on chicken continue to emerge, the popularity of Asian-inspired cuisine will continue to grow in 2023. Our Korean Fried
Chicken Breakfast sandwich is served hot and packaged in a grab-and-go format so consumers can enjoy it on or off-premise.
Even though we've seen tremendous growth in grab-and-go as a result of the pandemic, sandwich operators should be careful to not fall into the trap of assuming that the on-site experience at their location isn't part of what drives traffic. Sandwiches may be loved for their portability, but they aren't always eaten off-premise. According to operators who offer sandwiches, their sales tend to come primarily from sandwiches eaten on-premise rather than taken off-premise. Hot sandwiches are the most likely to be eaten on-premise, but even grab-and-go packaged sandwiches are more likely eaten on-premise than taken off. When consumers get a sandwich from foodservice, it seems that eating at that location is part of the point and it isn't all about an on-the-go experience.
When it comes to what consumers want, AFH sandwiches should be made to order, customizable with a wide variety of ingredients, look good, and be easy to eat. Additionally, consumers are looking for a good deal when it comes to sandwiches. They are most motivated to order a sandwich AFH if it is offered as a combo or with a coupon. Healthy, customizable, and higher quality sandwiches as well as portion size variety are also important motivators.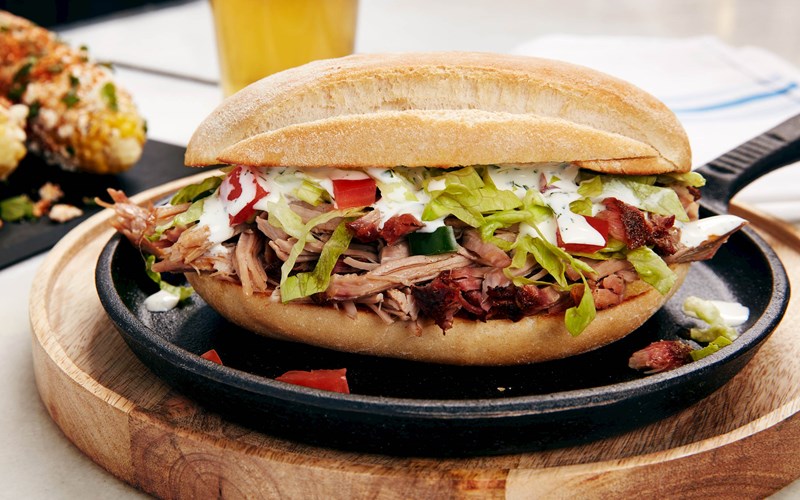 Even though a Torta may resemble a sandwich in almost every way, what goes inside a torta is uniquely Mexican and includes a variety of bold
and flavorful sauces and garnishes that are found in traditional Mexican dishes. Our Smoked Carnitas Torta is served with Mexican Street Corn
and it offers the complete Mexican street food experience.
*Insights from Datassential, Keynote Report on Sandwiches
Operators Offering Sandwiches
Operators overwhelmingly say that their sandwich sales have increased in the last year and that sandwiches are increasingly important to their business overall. Most sandwich varieties are seeing growth among the operators who offer them, and 35% of operators plan to offer more sandwiches next year (just 6% plan to offer fewer).
Sandwiches fit with all dayparts. Although they are most likely offered by operators at lunch, over three-quarters offer sandwiches at dinner and nearly two-thirds at breakfast. Growth in sales for sandwiches is coming most from key dayparts and less from snacking occasions. However, many more operators are seeing increases than are seeing decreases across all dayparts including snacking. According to the Keynote Sandwich report from Datassential, there is some interest in growing morning availability, as well as late night bites and PM snacks, which may be more affordable to consumers who want to enjoy an away from home experience without spending too much money on an entire meal. Offering mini/small offerings, sharable platters, or unique sandwich builds can increase sales by creating new dining experiences for consumers.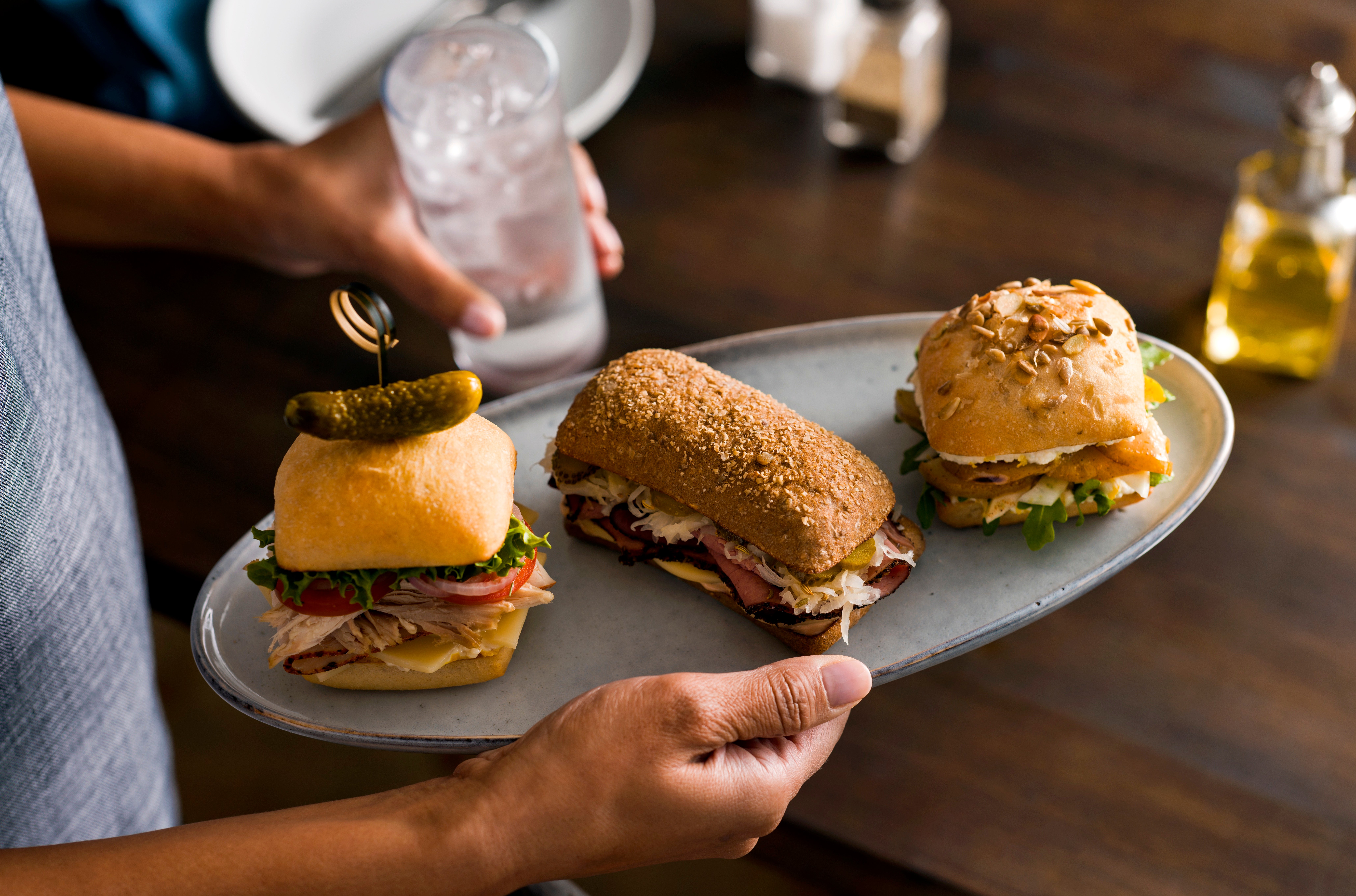 Operators should consider offering sharable sandwiches or a plate of sliders as an appetizer for the whole table to create an experience for consumers.
Operators are expanding their sandwich menus. Although the majority are planning to offer the same number next year, nearly nine times as many operators are going to offer more sandwiches as are going to offer fewer. Flavor and taste continue to drive sandwich ingredient selection for operators, but there has been a recent increase in the importance of ready-to-serve/heat offerings. As labor challenges continue to hit foodservice, operators are shifting across categories to more prepared or semi-prepared offerings and sandwiches are no exception.
Although availability, visual appeal, and brand are still important, operators are more focused on how to ease preparation when buying products and ingredients for their menus. Longer shelf life and fresher tastes is important. More pack size variety and smaller packs are other key desires to help with storage and keeping products fresh. Operators are increasingly open to sandwich offerings that help them reduce on-site prep and labor needs. One quarter of operators make changes to their sandwich menus every few months or more often. On-site operators are the most likely to make frequent menu changes to continue to captivate their guests by finding ways to keep their menu engaging for frequent visitors.
*Insights from Datassential, Keynote Report on Sandwiches
Sandwich Innovation
Sandwiches don't have to be simple or obvious and there are many opportunities across segments. Nearly three-quarters of consumers are at least occasionally buying sandwiches at casual dining and midscale restaurants. In fact, 39% buy sandwiches at least monthly from casual dining locations and 35% buy monthly from midscale restaurants. Interest is remarkably high in buying sandwiches from c-stores and fine dining locations, which highlights just how versatile a sandwich can be for consumers. Fewer than half of consumers purchase sandwiches from fine dining today, but nearly one quarter of sandwich eaters are open to purchasing a fine dining sandwich. With the right high-end ingredients, preparation, or presentation a sandwich can fit in at even the finest of dining locations. Operators and their suppliers should not shy away from experimenting and being innovative with their sandwiches to push the boundaries of consumer expectations!
Most sandwich varieties are seeing growth among the operators who offer them. When it comes to developing new recipes for your menu, innovation should focus on grab-and-go, hot, premium, and unique sandwiches. Hot, premium, and unique offerings are going to better draw consumers out of the house compared to cold sandwiches easily made with ingredients found at home. However, upscale/premium offerings and hot sandwiches often require more prep (a major pain point with lack of labor as a result of the pandemic) and so innovation should focus on simple preparations with fewer ingredients that can still entice patrons. Flavor and taste continue to drive sandwich ingredient selection for operators, but there has been a recent increase in the importance of ready-to-serve offerings.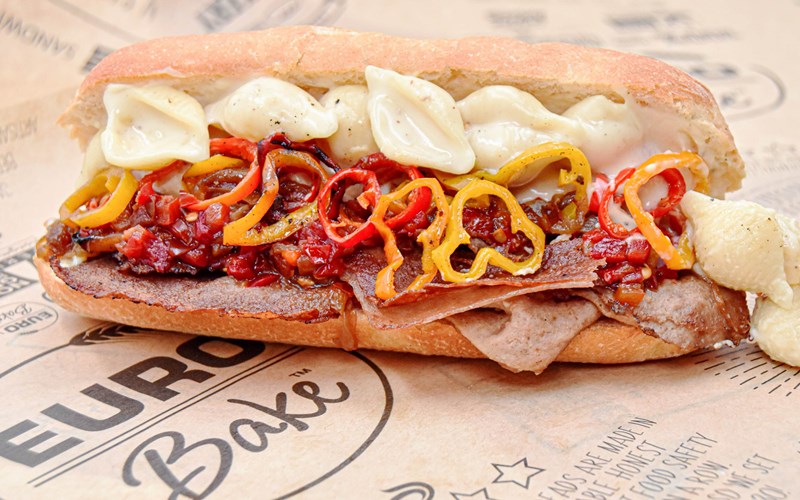 When it comes to classic American dishes, mac 'n cheese and cheesesteaks are two popular meals that can be enjoyed for lunch or dinner. This recipe combines them both into a fully loaded sandwich that everyone will enjoy. A mouthwatering, yet easy to make sandwich.
Although grab-and-go and build-your-own are the least offered today, interest is relatively high in adding these types of sandwich options. A grab-and-go sandwich doesn't necessarily mean one that is taken off-premise for consumption (in fact operators say most of their grab-and-go sandwiches are eaten on-premise) – it does mean something pre-prepared, not made-to-order, and probably cold. But that doesn't mean it has to be "basic." Remember that the top competition for foodservice (especially for a cold sandwich) is a sandwich made at home and so grab-and-go offerings need to find ways to differentiate – either with speed/convenience or with premium/unique ingredients.
Across the industry, getting consumers out of the house post-pandemic has been all about the experience and about what foodservice can offer that can't be found on the couch at home. Sandwiches are versatile and can provide that interactive experience that consumers crave. Whether you're serving a sandwich with soup for dipping, offering a shareable sandwich platter for the whole table, or creating unique sandwich recipes with global ingredients to offer an international flavor experience, it's important to think of how your sandwich offerings engage with consumers beyond just a delicious bite. Looking for new inspiration and innovation to add to your menu? Check out our unique and innovative Euro-Bake sandwich recipes below:
*Insights from Datassential, Keynote Report on Sandwiches
---
Interested in learning more about our products? View our 2023 Digital Product Catalog for more information and recipe inspiration. If you're interested in viewing more trends, insights, recipes and ideas, follow us on LinkedIn, Instagram, Facebook and Pinterest.
August 4, 2023