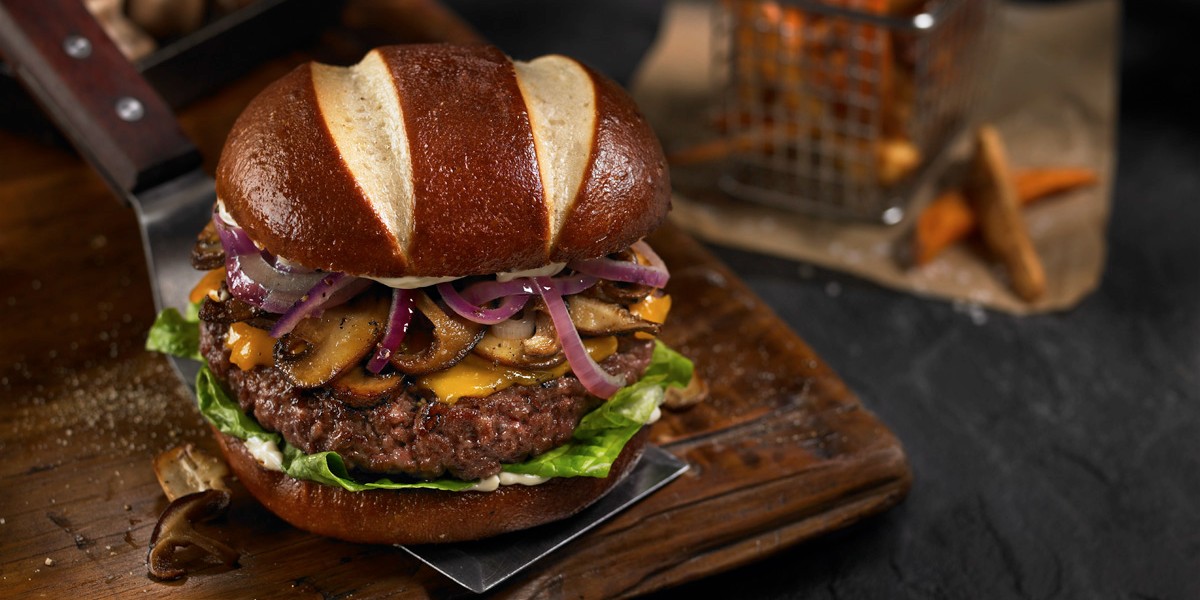 US Blog
Pretzel and Brioche are the Hottest Burger Bun Trends
There's nothing more classic in American cuisine than a hamburger. Almost every restaurant has one on their menu. And while some may think there's nothing new that can be done with this staple, many foodservice operators are actually beginning to experiment more with their burger buns.
According to a new report from Datassential, buns are one of the hottest ways restaurants are changing up their traditional burger options. 18 percent of foodservice venues say they're considering adding a burger with a pretzel bun to their menu, and another 18 percent say the same about using a gluten-free bun. Currently only about one in four restaurants offer a pretzel or gluten-free bun, but this survey suggests that number may soon be closer to 50 percent.
Brioche buns are another hot trend in burgers, with 14 percent of venues considering adding it to their menus. If that 14 percent were to adopt brioche, it would become the second most popular bun option in the United States ahead of sesame buns and kaiser rolls, and would only trail the plain hamburger bun in usage nationwide.
This data suggests many restaurants are exploring new types of burger buns to add to their menus. But why?
One major reason is variety. According to the same Datassential report, 53 percent of restaurants want to differentiate their menu from their competitors.
And Restaurants are more interested in changing their buns than any other part of the burger. They were far less willing to change cheeses, toppings, or condiments on their menu. For instance, Pepper Jack was the cheese restaurants were most likely to experiment with. But only 13 percent of operators said they would consider adding it to their menu, far less than the amount of interest in brioche or pretzel rolls.
Perhaps changing a hamburger bun is easier than other parts of the burger, or perhaps it's less likely to turn customers away. Most restaurants use plain hamburger buns that don't add much to the burger experience.
In a previous blog post, we demonstrated how much customers value high-quality burger buns being used in their meals. 60 percent of consumers say the type and quality of their bun is "extremely important" or "very important" when ordering a burger. Therefore, a restaurant switching from a plain bun to a more exciting or interesting bun is likely not going to push customers away.
Different types of buns can also attract new generations to a restaurant. Datassential discovered in a survey that 59 percent of millennials said they found a pretzel bun to be either "extremely appealing" or "very appealing," and 55 percent said the same about brioche buns.
In fact, millennials were statistically more likely to say non-traditional buns were more appealing than any other generation. Therefore, restaurants looking to attract these customers could do so by changing up their burger buns.
All this data suggests restaurants are moving away from offering a plain hamburger and are embracing more unique and creative options for their menu. And one of the easiest, quickest ways to do so is with a pretzel or brioche bun.
If you're interested in learning more about the benefits of premium burger buns and artisan breads, Euro-Bake recently published a whitepaper exploring this very topic. We discuss how quality buns can improve customer experience, increase social media attention for your restaurant, or simply deliver the taste and flavor your customers will not forget. Download our whitepaper to learn more.
Euro-Bake USA is an artisanal bread manufacturer serving the United States for over 25 years. Our selection of par-baked and fully-baked breads contain all-natural ingredients and no chemical preservatives. View our products or contact us today.
October 5, 2021