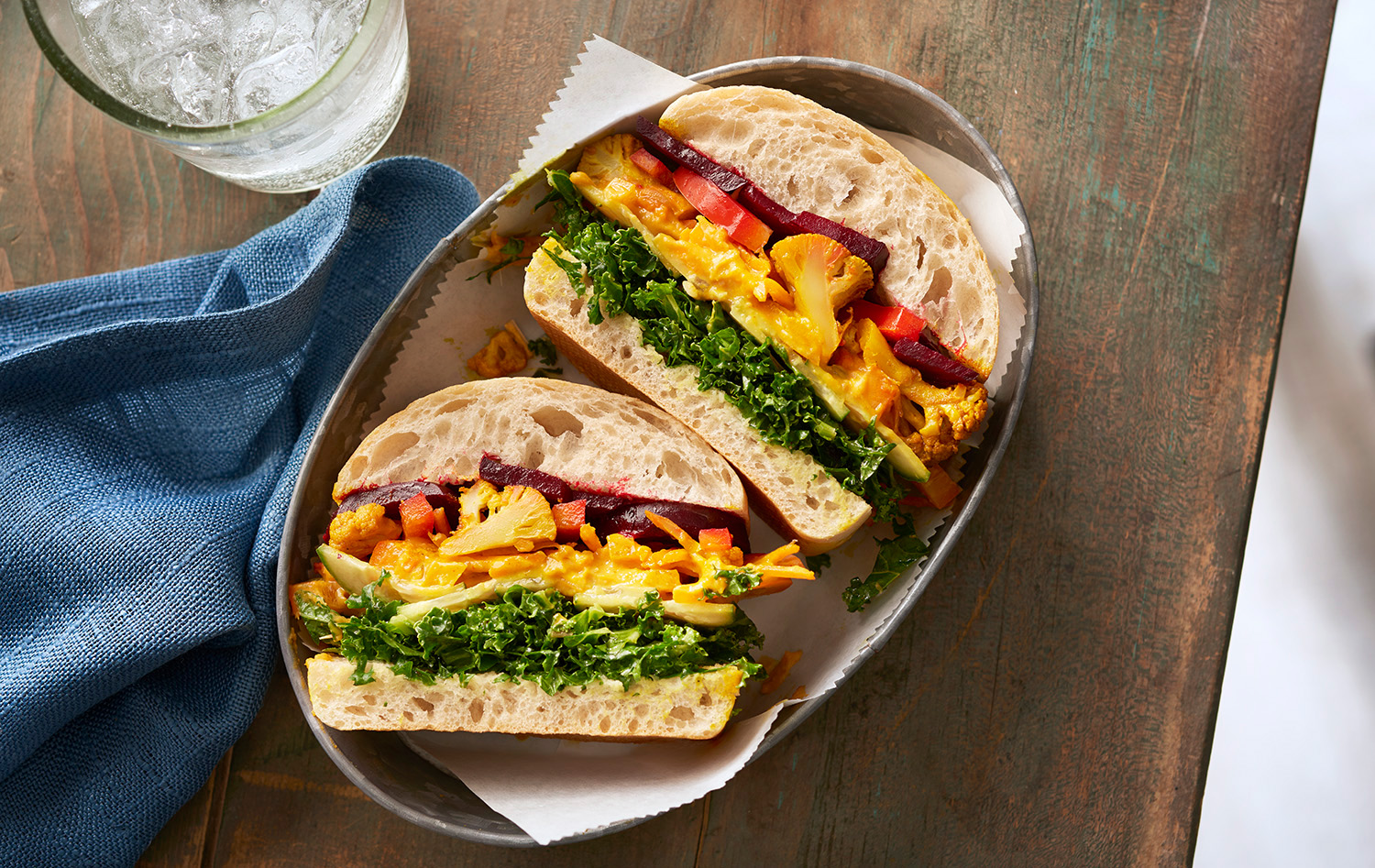 US Blog
New Sandwich Trends Emerge in the Post-Pandemic Age
Today is National Sandwich Day! Whether you prefer a classic cold cut sandwich, a hot sandwich piled high with ingredients, or a unique bespoke sandwich with bold flavor, National Sandwich Day on November 3rd recognizes one of America's favorite meal formats for breakfast, lunch and dinner.
From new product development to creative culinary ideations, the sandwich category has continued to rise in trendability with high innovation potential. As a result of the pandemic, consumers redefined their notions of what artisan bread should be and rediscovered their abiding appreciation for it too. They realized how easily their meals can be elevated with the use of quality baked goods, thus creating new opportunities for bakery brands to develop new products and innovative recipes for operators to put at the forefront of their menus.
Consumers Crave Artisan Bread in the Post-Pandemic Age
The pandemic has led to a rise in consumers' cravings for comfort foods and indulgent items like baked goods. Based on a nationwide survey conducted by The Harris Poll, 28% of Americans are eating more baked goods since the pandemic and 26% of Americans crave more baked goods than they normally would have before the pandemic. Out of 2,000 American adults who were surveyed, 50% said bread was one of the most-in-demand bakery treats. As a result, bakeries have been inspired to take advantage of this revived appreciation and longing for artisan bread by innovating their production methods and ingredients.
When it comes to fresh bread, sandwiches quickly come to mind given that they are one of the most popular meal formats across America. Sandwiches are one of the most common menu items, being found on 70% of appetizer-, entrée- and side-menus according to Datassential. At-home sandwich creation trended forward during the pandemic with people turning to social media and the internet for inspiration and new recipes to try. In addition, restaurants began to add upscale and globally inspired ingredients to elevate their sandwich offerings. Using the right bread for these new sandwich presentations can resonate with consumers and make a difference.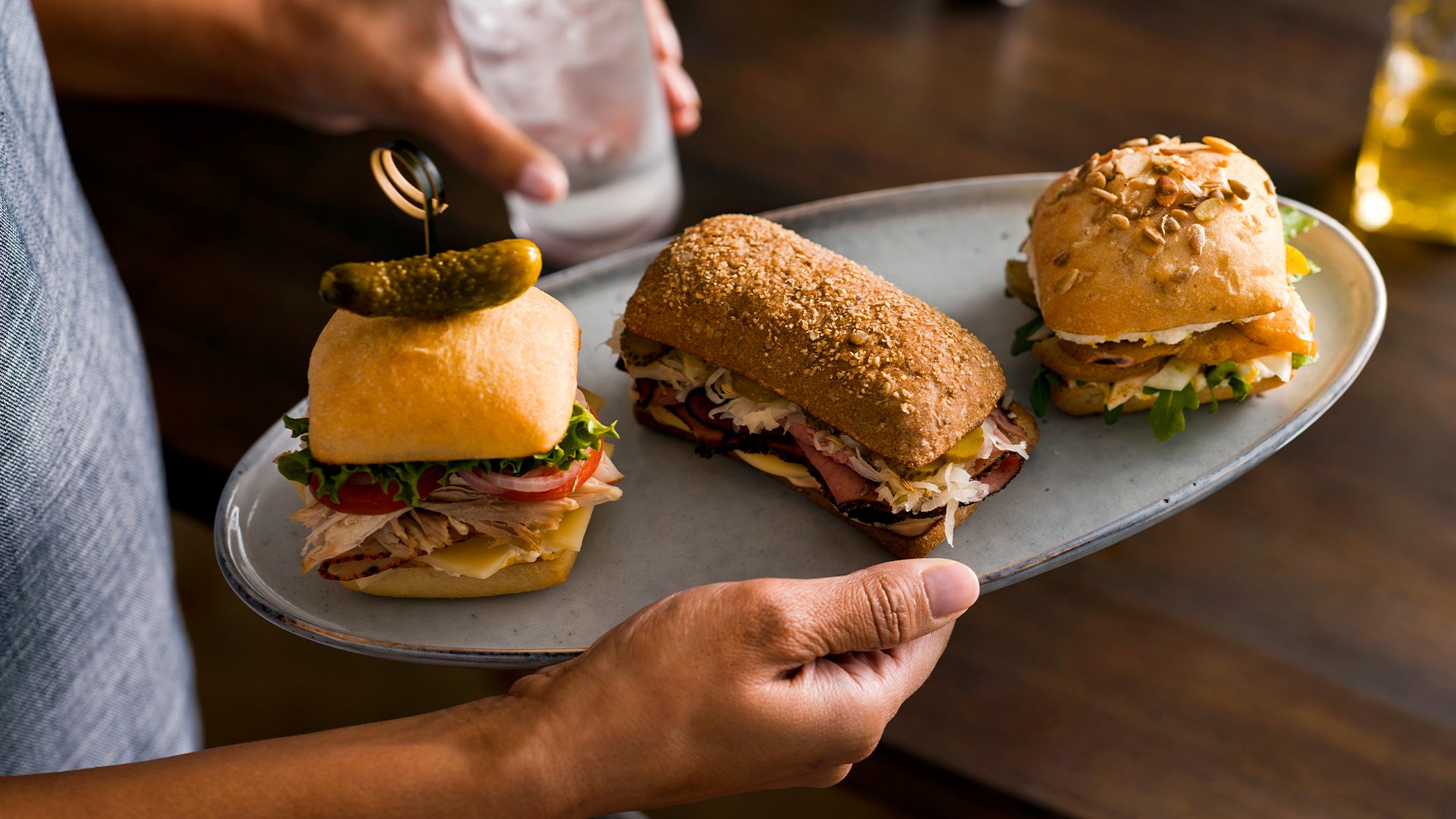 Featuring Spicy Mini Reuben Slider & Roasted Pear & Ricotta Slider
New Product Development (NPD)
With sustainability and healthy-eating being two of the current top trends in the food industry, consumers are now seeking options that are convenient, delicious, and made with all natural ingredients. Using a blend of tradition and technology, our dedicated and passionate bakers worked hard in our Euro-Bake bakery to create new bread products with exciting flavor combinations with the desire for health and indulgence in mind, all in one baked good.
When it comes to new product development (NPD), we rely heavily on trend forecasts to create unique flavor profiles that are bold in flavor and authentic to taste. According to Innova Market Insights, the top five claims for sandwiches include an added source of protein, no additives/preservatives, vegan, vegetarian and traditional. Over the years, our dedicated bakers have experimented, tested, and perfected our artisan recipes to achieve the high degree of quality and consistency for all our baked goods with these 5 bread claims in mind. Thanks to their commitment to creativity and innovation, our bakers are the pioneers behind our new products and flavor profiles that continue to push the limits of what consumers believe artisan bread to be. With menu versatility in mind, we introduced a few new flavor profiles during the pandemic including our Luau Sandwich Roll, Sundried Tomato Garlic Artisan Bread Loaf, Artisan Roll Assortment and Three Cheese Demi Bread Loaf.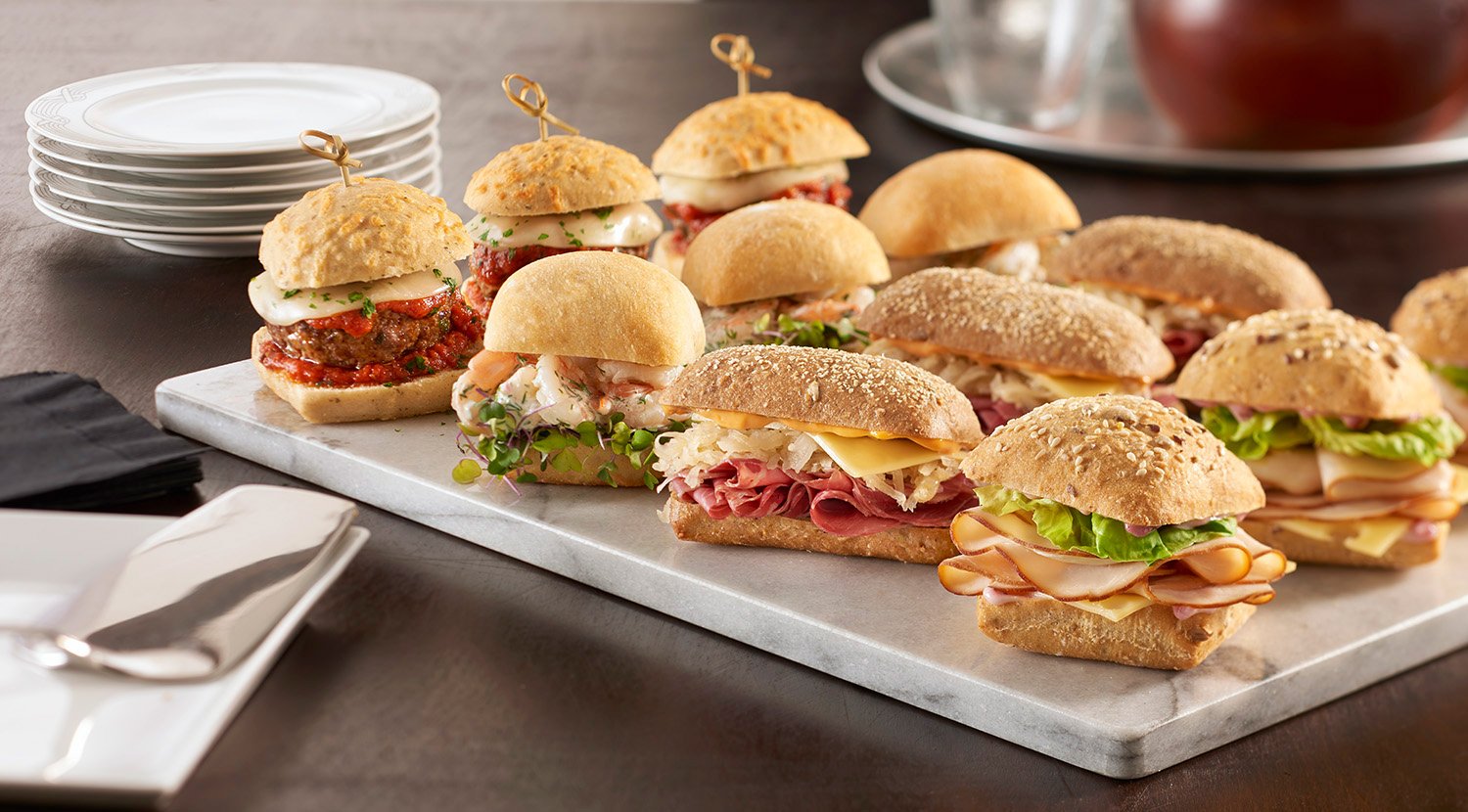 Platter of Mini Sandwiches on Euro-Bake Artisan Roll Assortment
Trending Sandwich Flavors
When it comes to sandwich creation, many people tend to blend familiar favorites with innovative flavors. However, all sandwiches start with the bread, and you should not use just any basic bread. You should be able to rely on the flavor and taste of fresh artisan bread as an enhancement to your recipe. As the ingredients begin to pile within the bread slices, it's important to us that we offer the right bread carrier for these innovative sandwich presentations.
At Euro-Bake bakery, our team works together to make sure that our artisan breads are authentic, versatile, and full of flavor to compliment your recipes. Throughout the years, an endless amount of sandwich recipes emerged as consumers crave bold flavors and textures from trending ingredients. However, according to Datassentials, a few major sandwich trends to focus on currently include plant-forward, Asian inspired, Middle Eastern, Latin influence, hot/spicy, and a touch of sweet. With these major trends in mind, our corporate executive chef created recipes with trending ingredients that have massive growth potential to inspire you:
Grilled Pork Belly Banh Mi is an Asian-inspired sandwich recipe packed with juicy pork belly, pickled vegetables, jalapeo, cucumber, herbs, and hoisin mayo. Complimented by the tropical flavor of our Euro-Bake Luau Sandwich Roll. "Spread a touch of butter on both sides of the luau sandwich roll and toast on a griddle for 2 minutes or until golden brown. Spread a smear of hoisin mayo on the top and bottom halves of the roll. Next, add the grilled pork belly.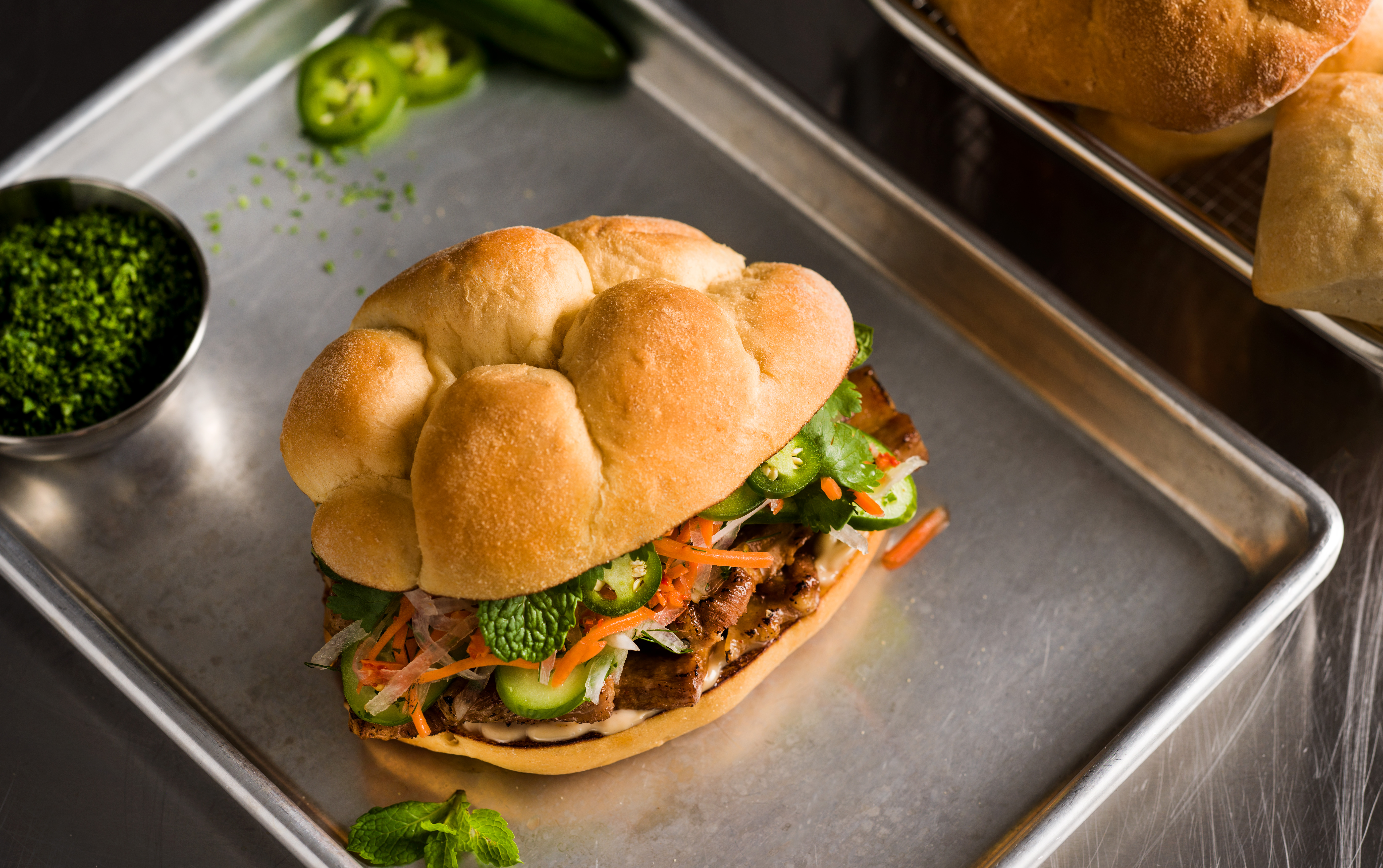 According to Datassentials, pickled veggie packed banh mi, five spice seasonings, and sauces featuring gochujang all add innovative flair to a familiar platform.
Gochujang Fried Chicken Sandwich puts a twist on a classic Korean dish with boneless chicken thighs infused with spicy gochujang sauce. First, fry the chicken to perfection and then serve on a buttered, griddled Euro-Bake Potato Roll. Next, top this Korean fried chicken sandwich with Korean BBQ sauce, kewpie mayonnaise, and zesty kimchi slaw. This dish appeals to loves of fried chicken, barbecue, and Asian cuisine, which makes it an excellent option for many different types of restaurants and foodservice operators.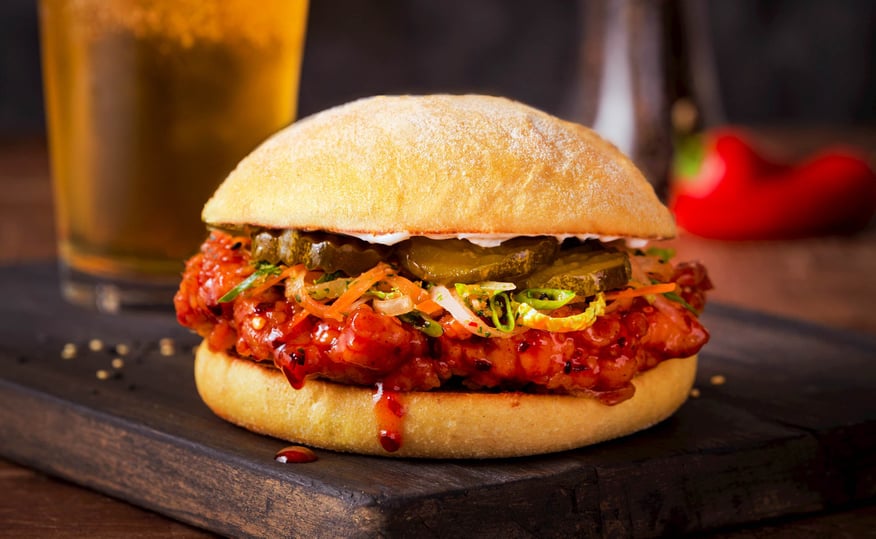 According to Datassentials, Gochujang has growth potential of + 24% 12-month growth potential and + 233% 4-year growth potential because its adds innovative flavor to familiar presentations.
Roasted Pear & Ricotta Sliders are composed of roasted pear, lemon ricotta and Euro-Bake Mini Sunflower and Pumpskin Seed Squares. "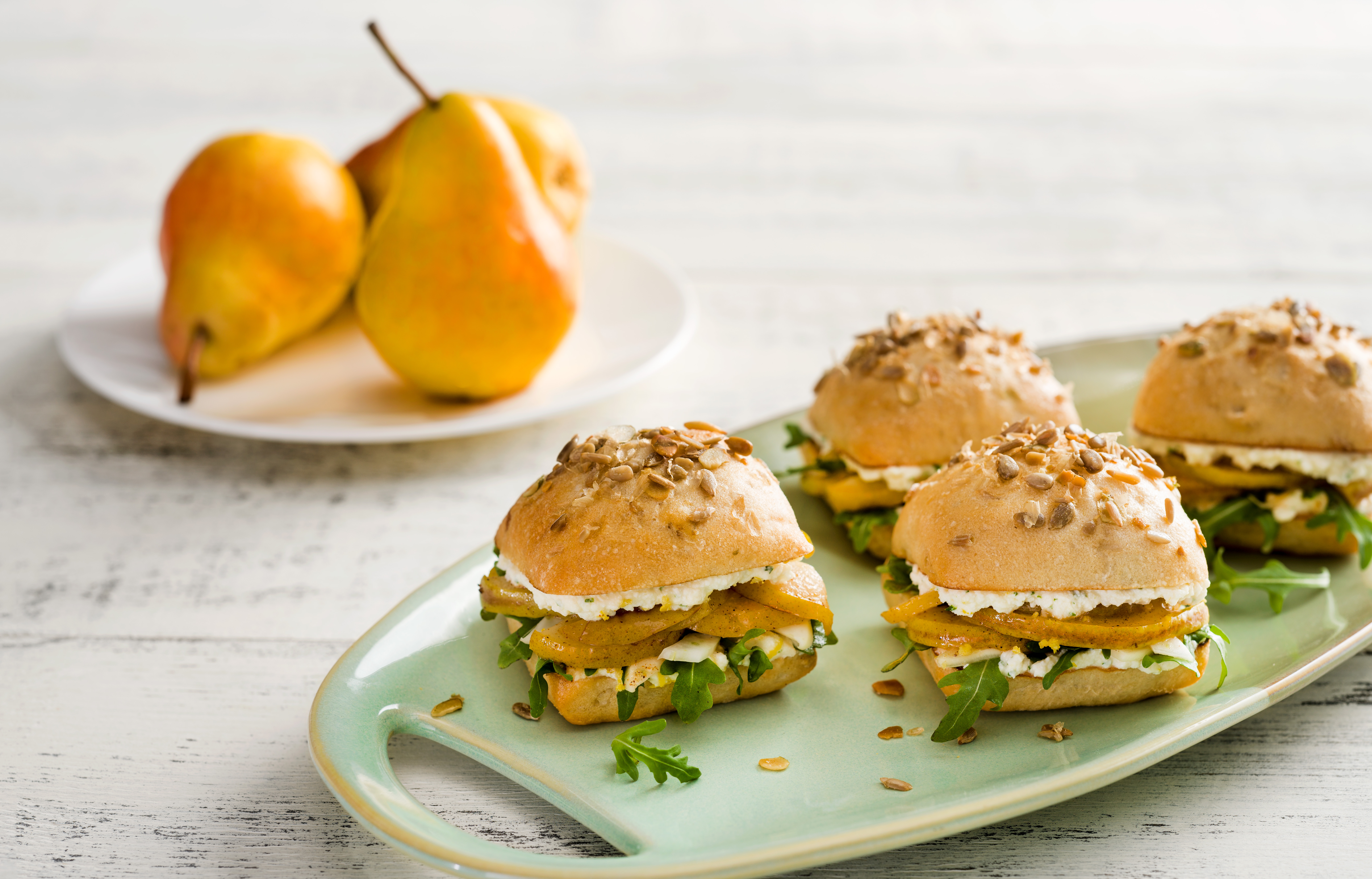 According to Datassentials, vegetarian sandwiches are appealing to both vegetarians and omnivores alike by putting veggies in the center stage with the focus on flavor.
Bulgogi Cheesesteak Sandwich incorporates thinly sliced, marinated ribeye covered with melted provolone cheese, sautéed bell peppers, and caramelized onions served on our Euro-Bake Soft Potato Hoagie Roll with a side of chili garlic beef jus. View link for full recipe.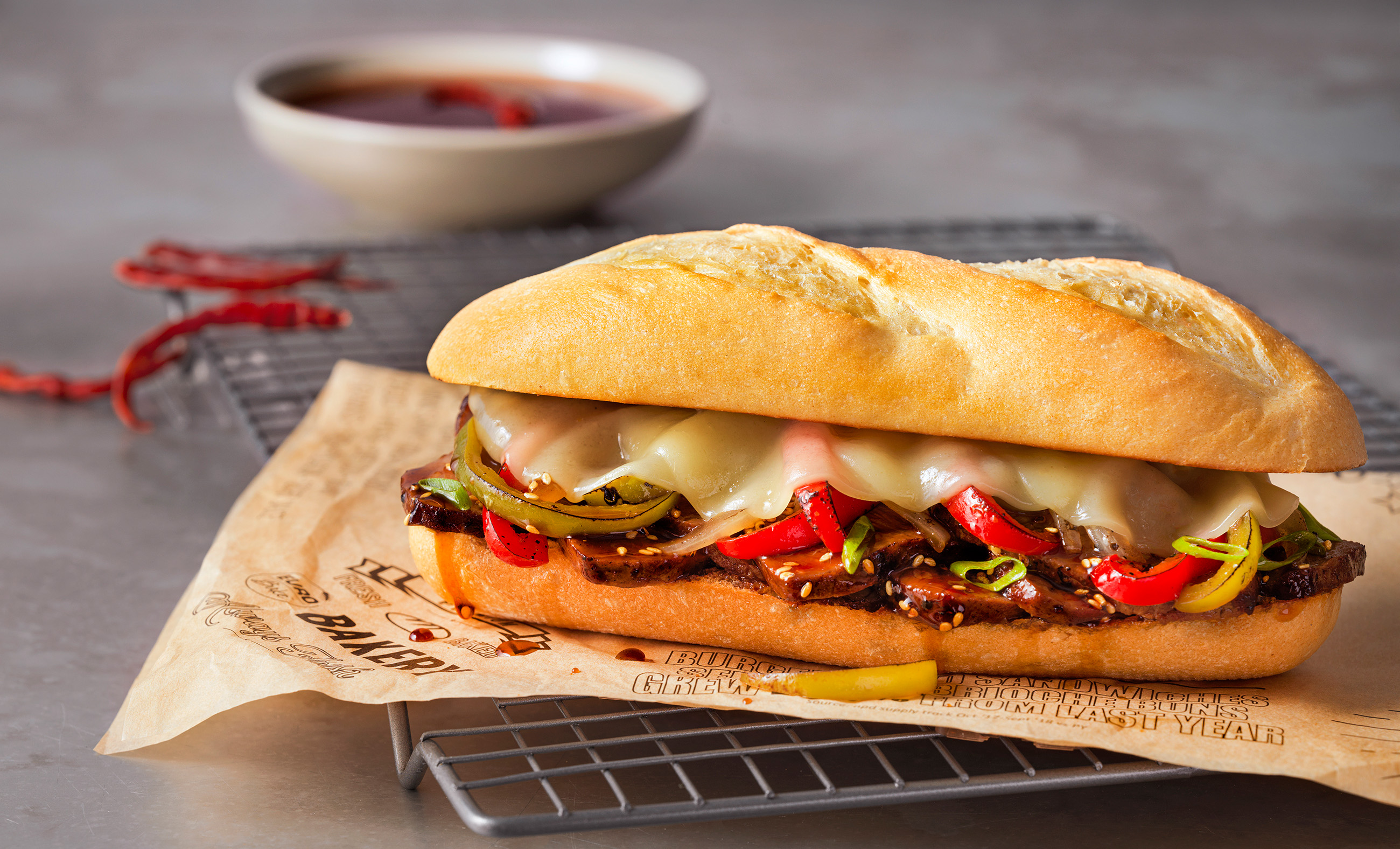 According to Datassentials, steak has a 29.4% menu penetration and provolone cheese has a 30.4% menu penetration. Both ingredients are classic, but the added Korean flavor gives it the innovative touch.
---
Looking for ways to improve the customer experience? Our new whitepaper discusses several strategies to do so. Download your copy today. If you're interested in viewing more trends, insights, recipes and ideas, follow us on LinkedIn, Instagram, Facebook and Pinterest.
Euro-Bake USA is an artisanal bread manufacturer serving the United States for over 25 years. Our selection of par-baked and fully-baked breads contain all-natural ingredients and no chemical preservatives. View our products or contact us today. To learn more about our products and services, follow us on Instagram, Facebook and Pinterest.
November 3, 2022