US Blog
Saving Time and Effort During a Labor Shortage
Industries across the United States are facing a massive labor shortage that economists believe will be a long term issue. Some people theorized that the expiration of increased unemployment benefits passed earlier in the pandemic would incentivize workers to return to their jobs. Experts suggest while this may be true for some, there are other factors at play.
Workers who were laid off or furloughed during the early stages of the pandemic are not returning to their employers for reasons including child care concerns, demand for higher wages, better health care, working conditions, and more.
Food service and hospitality businesses, such as restaurants and hotels, are currently being hit particularly hard. According to Nation's Restaurant News, restaurants are currently operating with an average of 6.2 fewer employees in the back of house and 2.8 fewer workers in the front of house compared to pre-pandemic levels. Non-restaurants in the foodservice industry are facing the same shortages. And with business picking back up thanks to increased vaccination rates and decreased concerns about COVID, the labor deficit is starting to leave its mark.
Customers are also beginning to notice. A report from Datassential says more than half of consumers have seen the negative effects of the labor shortage at restaurants. However, it seems they're somewhat forgiving as well. 64 percent of consumers say they're willing to give a short-staffed restaurant a second chance if they initially received bad service. That's a positive sign, but it also means the rest won't accept short-staffing as an excuse for a subpar experience. A slip-up here and there caused by a labor shortage is ok, but regular mistakes, confusion, or problems will eventually have consequences.
Hoping the labor force shortage will resolve itself overnight is not an effective strategy for dealing with the current situation. Instead, foodservice businesses need to brainstorm ways to improve the customer experience with minimal time and effort required.
One solution is to focus on selling products that do not require significant labor. Time and effort are precious commodities during a labor shortage, so any menu items that require significant preparation or focus can be a liability. Consider substituting complicated offerings for simpler ones, hopefully with similar levels of quality.
For instance, Schulstad Bakery Solutions is introducing its new European Fully-Baked Danish pastries. Compared to Ready-to-Bake pastries, these Fully-Baked Danishes require no time in the oven. They simply need to be thawed for 60 to 90 minutes and then served. The pastries allow businesses to deliver the same authentic quality customers are used to but with less time and labor required.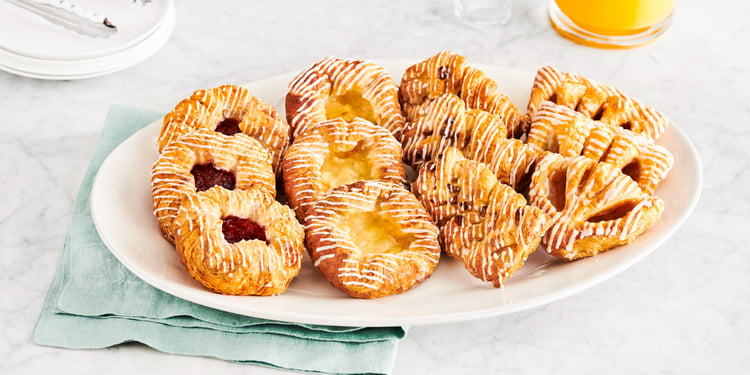 Schulstad's new Fully-Baked Danish pastries
The key is to get creative. Expecting a line of prospective employees to line up outside the doors Monday morning is not a strategy. Taking steps to adapt in the short term until the economy returns to normal is paramount.
---
Interested in learning more about our fully-baked pastries? Email us at SchulstadUSA@lantmannen.com with any questions you have.
Schulstad Bakery Solutions is a brand that stands proudly upon its heritage and expertise providing premium croissants and Danish pastries for 150 years. We pride ourselves in creating innovative products using modern baking techniques while maintaining the integrity of our premium products. View our products or contact us today.
September 14, 2021