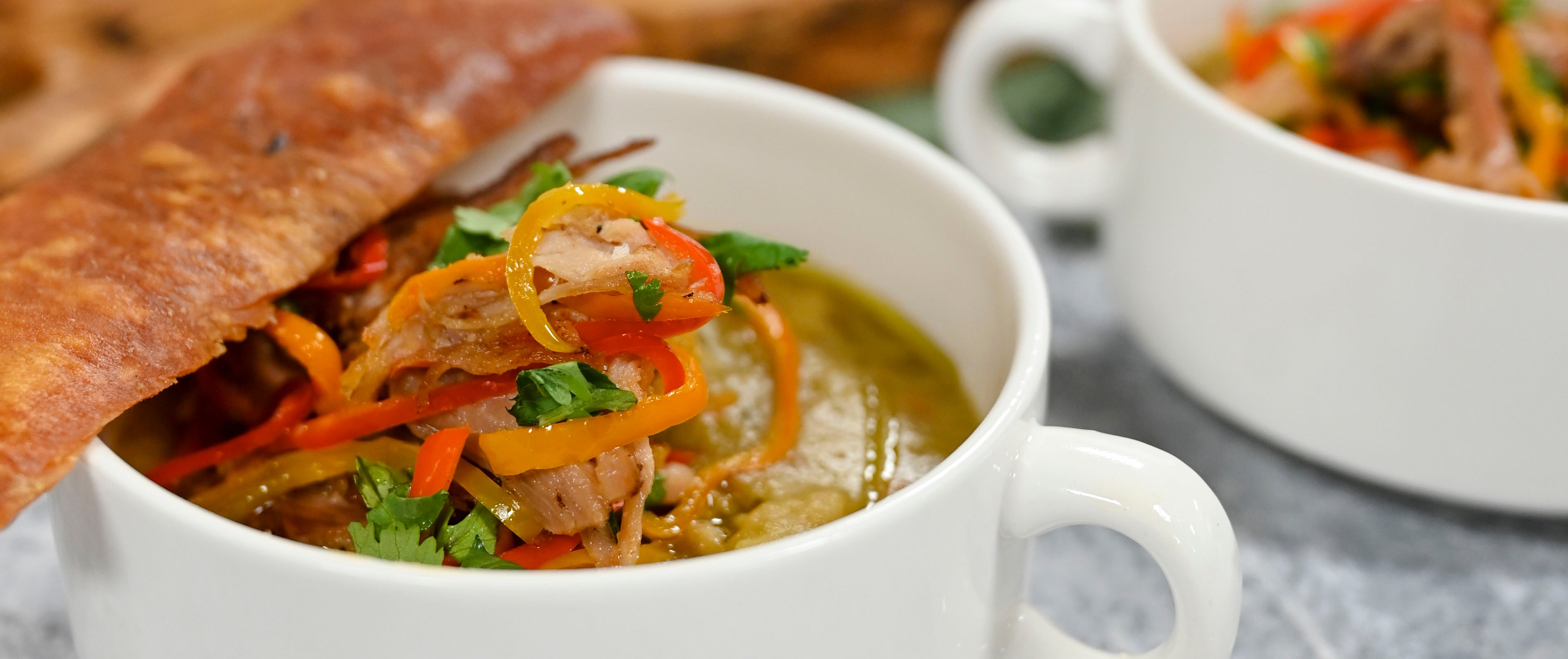 US Blog
Unibake USA Celebrates National Hispanic Heritage Month
Every year, National Hispanic Heritage Month is celebrated nationwide from September 15 to October 15, to honor the histories, cultures and contributions of both Hispanic and Latin American countries. At Lantmannen Unibake USA, we have many skilled and passionate employees with heritage roots in Latin American countries including Chile, Columbia, Cuba, Ecuador, Guatemala, Honduras, Mexico, Peru, Puerto Rico and El Salvador.
Celebrating Heritage & Global Diversity
At Lantmannen Unibake USA we have approximately 200 employees with heritage roots from 20 different countries across the world. We all take responsibility to contribute to the business as a whole and we continually look for new ways to collaborate with our colleagues and partners and improve our relationships. We rely on our knowledge of industry trends and cultural influences that make our company and products unique. Ultimately, our global diversity allows us to reach our goals, achieve profitability, and remain a successful leader in the industry.
Local Cuban & Spanish Influences
Lantmannen Unibake USA is wholesale bakery manufacturer in St. Pete, Florida that is proud of our heritage and diverse community. Through culinary ideation, our corporate executive chef, Carlos Villanueva, will work closely with our partners to develop new ideas and applications for our products to ensure unique, trend-forward recipes are at the forefront of their menus. Many of his recipes are inspired by his Cuban heritage roots and his culinary experience in Spain. Cuban cuisine is largely based on Spanish cuisine with influence from African and other Caribbean cuisines. This results in a blend of different cultural influences.
In a recent article feature on Food & Wines from Spain, Chef Carlos shares his favorite Spanish flavors and essentials, ways to incorporate Spanish flavor into your meals and some recipes for you to try. From extra virgin olive oil, to pimentón (smoked paprika), to vinegars, each ingredient is a Spanish essential in Chef Carlos' kitchen and are guaranteed to add flavor to your next dish. Given that Spanish products have penetrated the market deeper in the last 15 years, he believes that Spanish flavors will soon be trending (if they are not already) and that there is so much room for growth when it comes to incorporating cultural flair into new recipes.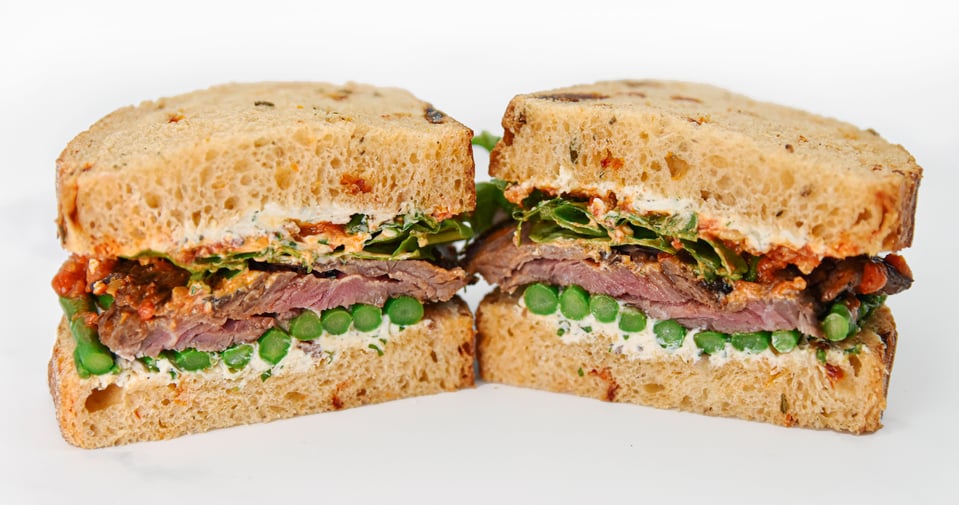 Hispanic Heritage Inspired Recipes
Tapa de Cecina is a montadito, gourmet style, with cured beef cecina, peas, whipped miticrema cheese, smoked tomato and baby greens, on top of slices of Euro-Bake Roasted Garlic Loaf. "Preheat the oven to 350°F, toast the slices of Garlic Loaf for 1-2 minutes. Lather on the whipped goat cheese, followed by the tomato, and cecina. Sprinkle on the peas and top with the tender greens. Finish with a drizzle of extra virgin olive oil and sea salt".
Grilled Steak Bocata with Romesco is a grilled skirt steak, with asparagus, herb caña de cabra goat cheese, arugula and romesco on a Euro-Bake Sundried Tomato Garlic Loaf. "Preheat the oven to 350°F and toast two slices of Sundried Tomato Garlic Loaf for 2-3 minutes. Once toasted, spread on the herb cheese spread followed by the asparagus. After grilling and resting the skirt steak, slice it on a bias and shingle on top of the asparagus. Add a spoonful of romesco and finish with arugula. Close the sandwich with the other slice of bread".
Split Pea Soup is a hearty, comforting soup made with chopped celery, minced garlic, chicken stock, diced potatoes, green split peas, smoked ham, cumin, bay leaf and salt. "Render the bacon in the oil. Add the onions and celery and sauté until the onions become transparent. Add the minced garlic and sauté until an aroma develops. Do not brown. Add the chicken stock, diced potatoes, split peas, ham and bay leaves and bring to a simmer. Allow the soup to simmer for 1 ½ hours or until the peas are very tender. Add seasoning to taste". *Pairs well with Garlic & Cheese Cuban Bread
Garlic Cheesy Cuban Bread incorporates the staple Cuban-American Pan Cubano with Kerry Gold garlic butter, provolone cheese, cheddar cheese, and chopped parsley. "Preheat the oven to 350°F. Using a serrated knife, slice Euro-Bake 7" Pan Cubano down the middle. Spread the garlic butter on both sides of the inside of the bread. Cut the sliced cheese to that it fits inside the bread and layer them on the bottom half. Next, place the other half of the bread on top to close. Brush the top of the bread with garlic butter. Using the serrated knife, pre-slice the bread with 1" deep cut. Place on a baking tray and bake in the oven for 2 – 3 minutes until toasted with the cheese melting". *Pairs well with Split Pea Soup.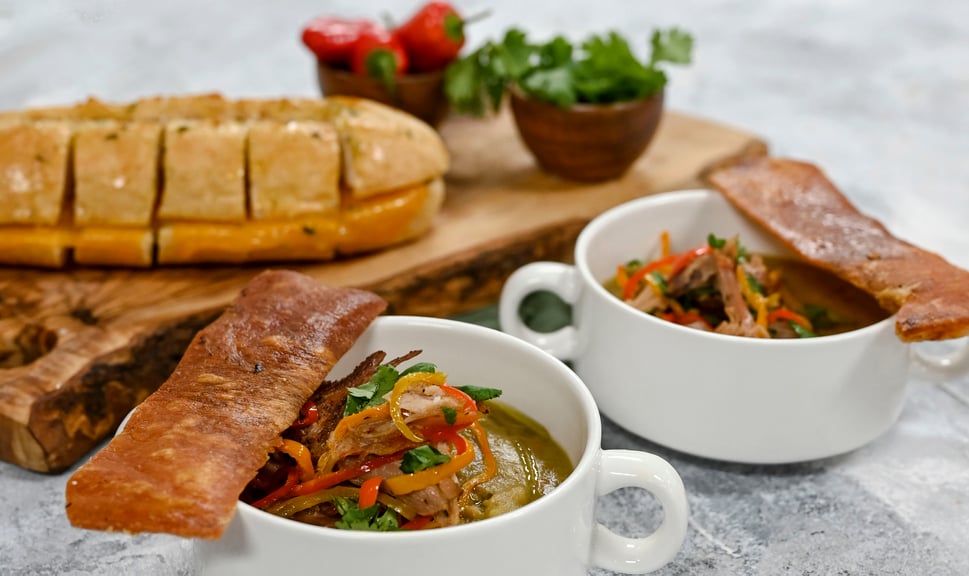 ---
Looking for ways to improve the customer experience? Our new whitepaper discusses several strategies to do so. Download your copy today. If you're interested in viewing more trends, insights, recipes and ideas, follow us on LinkedIn, Instagram, Facebook and Pinterest.
Euro-Bake USA is an artisanal bread manufacturer serving the United States for over 25 years. Our selection of par-baked and fully-baked breads contain all-natural ingredients and no chemical preservatives. View our products or contact us today. To learn more about our products and services, follow us on Instagram, Facebook and Pinterest.
October 12, 2022