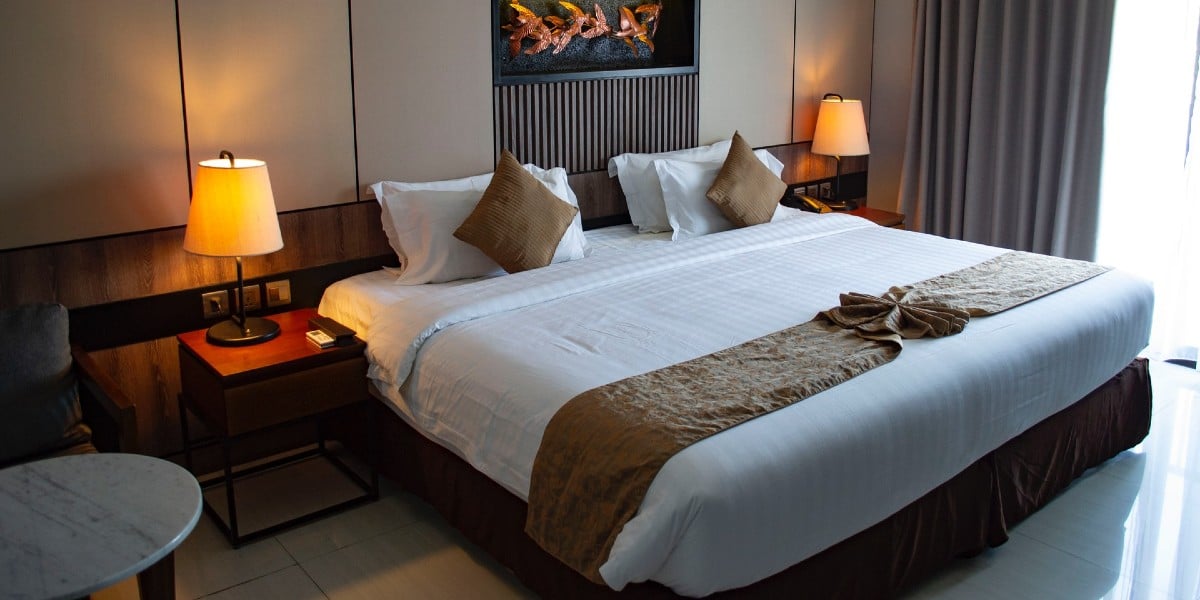 US Blog
5 Hospitality Trends to Watch in 2022
2022 is nearly upon us, and while the hospitality industry works on ways to adapt to the ongoing pandemic and labor shortage, there are other trends businesses should watch in the next year as well. Here are the five most important trends in the hospitality industry we expect to see in 2022.
1. Bleisure
The rise of remote work during the pandemic led to a decrease in business travel, but it's also created the rise of a new category: Bleisure. This is a trend of people working while going on leisure trips. These travelers are therefore using their hospitality venues as make-shift offices during the day before going out and having fun in the evening.
Hotels can help accommodate bleisure travelers by ensuring they have everything they need for work, such as outlets, high-speed internet, access to printers, and similar things. They can also offer office-type accouterments such as fresh coffee and pastries to make them more comfortable in their temporary workspace.
2. Sustainability
Sustainability will remain a major trend for many years to come in the hospitality industry. There are many ways hotels and other businesses can approach this trend in 2022. One approach is making as much of the check-in and check-out process digital will cut down on paper consumption. Additionally, many places have stopped offering miniature toiletries for each room and replaced them with larger dispensers to reduce waste.
If renovations are being made to a business, reduction in environmental impact with more eco-friendly switches, smart bulbs to reduce energy consumption, and other similar tactics should be kept in mind as well.
3. Digital Experiences
We live in an increasingly digital world, and people expect the same when traveling. Creating digital hospitality experiences can be relatively simple, such as implementing mobile check-in and contactless payments. With an estimated 75 percent of guests using Online Travel Agencies such as Expedia or TripAdvisor, it's important for hospitality businesses to likewise ensure they're investing in their digital presence as well.
If businesses are really looking to invest in digital experiences, Virtual Reality (VR) seems to be the next frontier of hospitality. VR would allow potential guests to "visit" and explore their rooms and hotels before booking to see if the accommodations match their standards. This may not be something that fully takes off in 2022, but could be a staple of the industry by the end of the decade.
4. Personalization
While people may be uncomfortable with the idea, we live in an age where businesses have unprecedented data on their customers. Ignoring the potential data provided for personalization can be detrimental to a business.
Personalization can be as simple as using a customer's first name in an email response or offer to increase their likelihood to engage. Hospitality businesses can also invest in data analytics software to track and analyze customer behaviors to develop customized marketing and sales offers depending on someone's interests.
5. Sharing Economy
The sharing economy has completely revolutionized the hospitality industry, with platforms such as Airbnb allowing people to share their homes with travelers for a more authentic and private experience. By 2025, the sharing economy is expected to generate an equal amount of hospitality revenue as traditional hospitality sectors.
Recently Airbnb announced they are expanding their services to include hotels. We expect the reverse to happen as well, with hotels adding private residences and lodgings to their offerings.
The pandemic has influenced the sharing economy in interesting ways. While many have embraced Airbnbs to avoid crowds and larger groups of people, others prefer the dedicated cleanliness and sanitation efforts that hotels provide.
Regardless of whether people choose hotels or private homes, the sharing economy will remain both a boon and a hindrance to hospitality businesses.
The uncertainty surrounding the pandemic will continue throughout 2022, but by staying ahead of these trends, hospitality businesses can adapt to ensure a more certain future success.
---
Schulstad Bakery Solutions is a brand that stands proudly upon its heritage and expertise providing premium croissants and Danish pastries for 150 years. We pride ourselves in creating innovative products using modern baking techniques while maintaining the integrity of our premium products. View our products or contact us today.
December 21, 2021