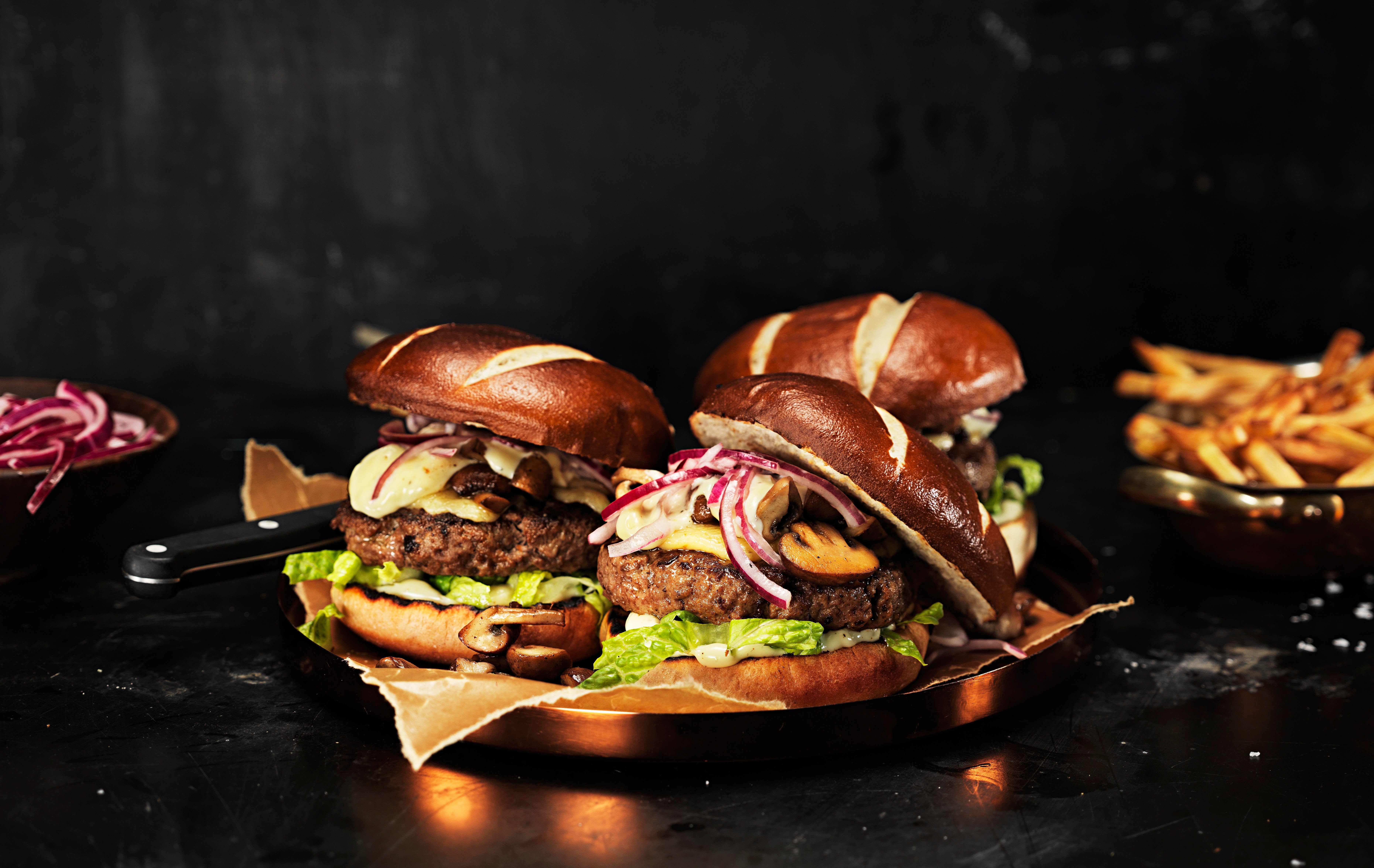 US Blog
Eat Like a Champion on Game Day
It's that time of the year again; the Super Bowl is finally here! Although family and friends gather together to watch the game itself, we all know that huddling around the table for a delicious spread of food is just as important. Whether people are hosting or attending a watch party, watching it on the biggest TV screen at their house, or gathering with friends at their favorite sports bar or restaurant, there are plenty of ways to impress your fans and use our Euro-Bake products on Game Day.
Super Bowl Spending
According to the latest consumer spending data from the NRF and Prosper Insights & Analytics' 2023 Super Bowl survey, 192.9 million U.S. adults plan to tune in to the big game. This year, 103.5 million people plan to throw or attend a party, and another 17.8 million plan to watch the game at a bar or restaurant. Total spending on food, drinks, apparel, decorations and other purchases for the day is expected to reach $16.5 billion, or $85.36 per person, with food and beverages being the most popular purchases. As a result, supermarkets and foodservice operators can expect a huge sales boost in the beginning of February.
The 2023 survey of 7,616 adults 18 and older was conducted by Prosper Insights & Analytics between January 3-11 and has a margin of error of plus or minus 1.1 percentage points.
Football Feast Favorites
No matter what team you're rooting for this year, the food is what truly brings us together on Game Day. Based on Super Bowl food trends, there are a variety of classic dishes that we can all predict to be served during the big game including chicken wings, meatballs, chips & dip, burgers, hot dogs, pizza, and classic snack foods. According to the National Chicken Council, Americans are expected to eat their way to a new record with an estimate of 1.45 billion chicken wings to be consumed during the Super Bowl weekend.
There are several reasons for the uptick, says National Chicken Council spokesperson Tom Super: "The two main reasons are more favorable prices and more people getting back to normal and gathering for the Big Game, whether at home or at a bar/restaurant," Super said. "While Americans are seeing inflation impact almost every part of their lives, both wholesale and retail wing prices are down double digits from a year ago, according to USDA, and consumers are seeing a lot more features and promotions.
In addition, given that Philly is known for its cheesesteaks and Kansas City is known for its BBQ, we can expect a lot of these ingredients to be promoted in grocery stores or featured on menus nationwide.
Touchdown Food Trends
The two competing football teams aren't the only ones who have to prepare for the kick off. Luckily for us, Google Trends recently shared the top game day bites to help every fan plan the perfect game day meal.
Buffalo Chicken Dip

Chili

Philly Cheesesteak

Pigs in a Blanket

Banana Bread
According to Google Trends, Americans also showed a renewed interest in chicken wings, with the term hitting its peak as it does annually in February. The top searched chicken wing flavors include:
Lemon Pepper Chicken Wings

Buffalo Chicken Wings

Honey Garlic Chicken Wings

BBQ Chicken Wings

Teriyaki Chicken Wings
When it comes to snacks, Americans spent $616 million in 2022 on snacks for the Super Bowl and SNAC expects sales to be even higher this year. In a recent consumer survey that polled 2,000 adults, it was reported that almost half (49%) said that running out of snacks is worse than their team losing the game. According to snack stats provided by the IRI, which compared 2022 shopping stats from Super Bowl week to the prior week, there will be a significant increase in the following snack categories during Super Bowl Week:
Tortilla Chips: 22%

Potato Chips: 10.1%

Pretzels: 6.8%

Cheese Snacks: 6.7%

Refrigerated Dips: 32.6%
While everyone has their favorite chips and dip duo, newly released Google Trends data shows from the past week shows which combination reigns supreme in each state. This offers a glance into the leading flavor profiles during Super Bowl week based on locality and regionality and it can help foodservice operators select the right menu specials to feature and promote.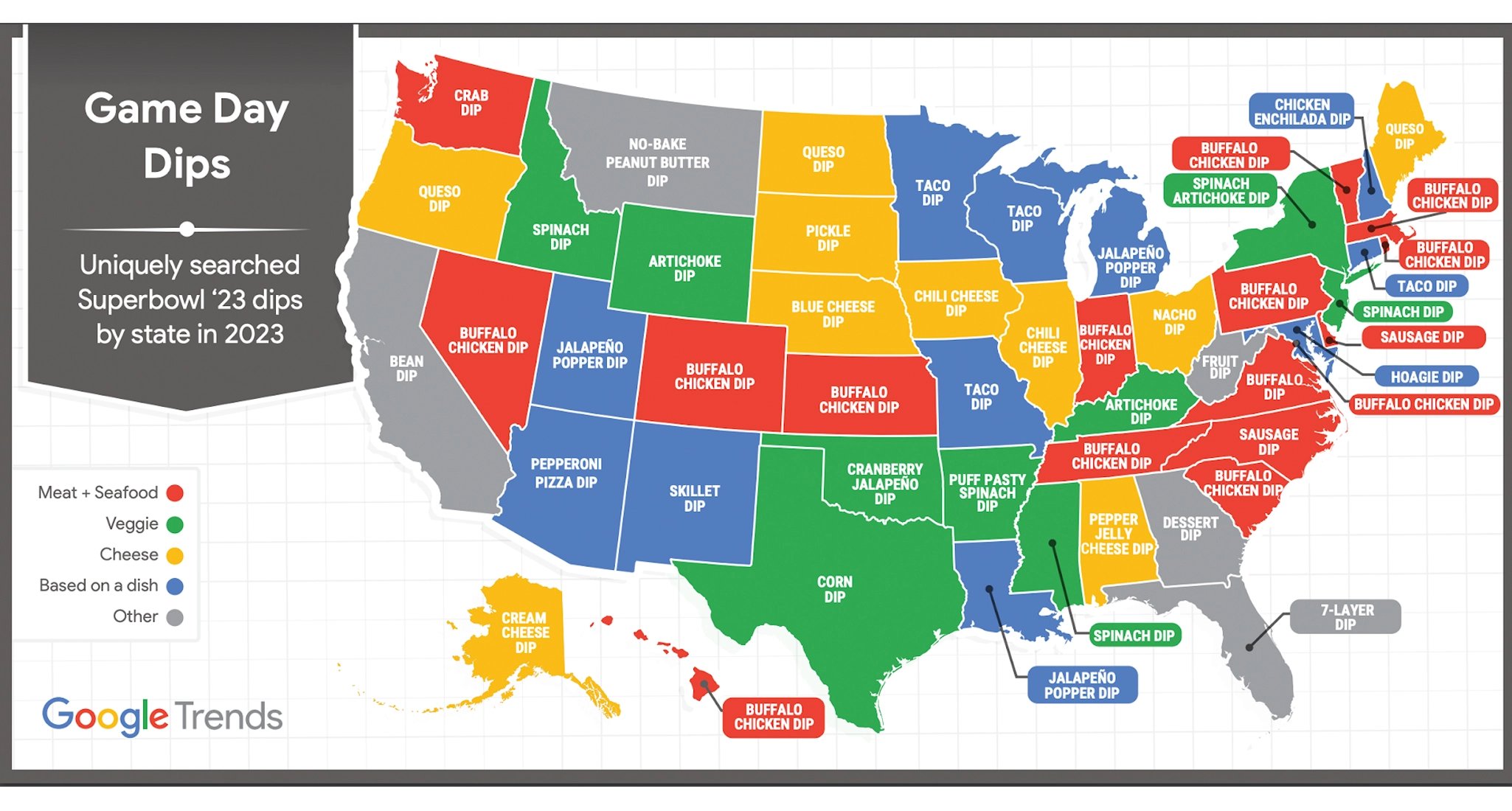 While everyone has their favorite chips and dip duo, newly released Google Trends data shows from the past week shows which combination reigns supreme in each state.
The Kroger Co. data division 84.51° also delved into what's on the menu for Super Sunday. According to the "February Consumer Digest" from Kroger Co. chips and dips are leading at 72% as the fan favorite. This was followed by eating pizza, at 44%; homemade appetizers, at a close 42%; and eating sides, at 35%. Other grocers can expect similar volume during the Super Bowl week.
The Super Bowl is a major food holiday and it's important that supermarkets and foodservice operators stay up to date with the food trends and take advantage of the opportunities that can help them stand out in a competitive market.
Recommended Game Day Recipes
Whether you're planning your menu based on locality, theme or budget, we have a variety of trendy recipe ideas that will impress your fans on Game Day. Score extra points for using Euro-Bake artisan breads and gourmet pretzels.
---
Interested in learning more about our products? View our 2023 Digital Product Catalog for more information and recipe inspiration. If you're interested in viewing more trends, insights, recipes and ideas, follow us on LinkedIn, Instagram, Facebook and Pinterest.
Euro-Bake USA is an artisanal bread manufacturer serving the United States for over 25 years. Our selection of par-baked and fully-baked breads contain all-natural ingredients and no chemical preservatives. View our products or contact us today. To learn more about our products and services, follow us on Instagram, Facebook and Pinterest.
@lantmannenunibakeusa @eurobakeusa @schulstadusa
January 29, 2023