US Blog
Customers Prefer Quality Sandwiches to Healthy Ones
American diets are becoming more and more anti-sandwich as keto, gluten-free, and plant-based become more and more the trend. According to new surveys and data, just because something's a trend, doesn't mean it should become the basis of a restaurant's whole menu.
Technomic recently conducted a survey of 1,500 Americans who eat sandwiches at least once per month. They asked what is the most important factor they consider when deciding which sandwich they want to order.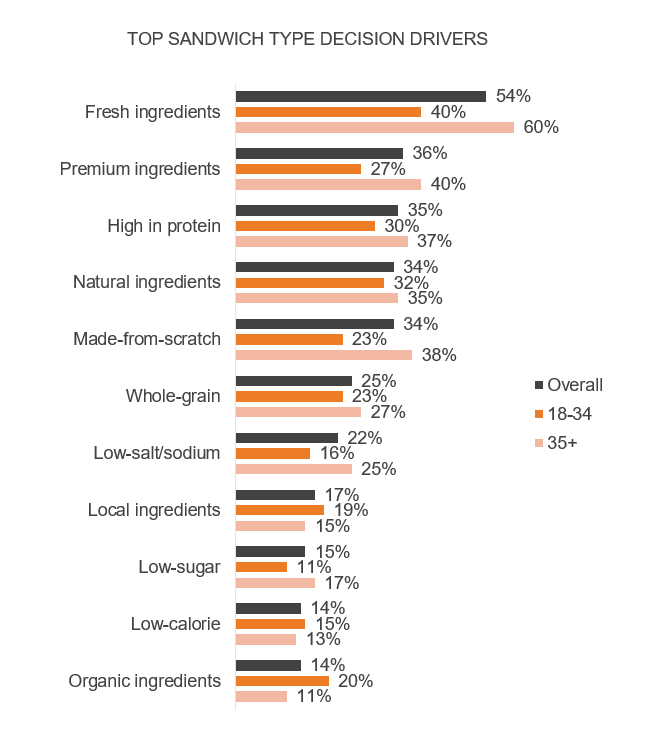 Source: Technomic
According to the survey, quality trumped health when it came to deciding what to order. Fresh, premium, or natural ingredients were three of the four most important factors. Meanwhile, low sodium, low sugar, and low calorie were three of the five least important reasons for ordering a sandwich. Data suggests that people who order sandwiches don't make health a focus in their menu decisions, but rather taste and quality.
This doesn't mean restaurant customers want their sandwiches to be completely unhealthy, but how they view a healthy sandwich compared to other foods is different. For many people, a "healthy" sandwich does not necessarily mean low sodium or low fat. Instead, high fiber or high protein ingredients can offer health benefits that don't necessarily detract from the taste. For instance, consumers were nearly twice as willing to pay more for sandwich bread that used natural ingredients, contained whole grains, or was a good source of protein over ones that were low calorie, vegan, or gluten-free.
Customer also highlighted their willingness to pay more for better quality. According to Datassential, 21 percent of consumers said they'd be willing to pay a higher price for a sandwich if it meant better quality. With inflation causing many restaurants to raise prices on their menus, improving quality can make customers more willing to pay more for their meals.
---
Euro-Bake USA is an artisanal bread manufacturer serving the United States for over 25 years. Our selection of par-baked and fully-baked breads contain all-natural ingredients and no chemical preservatives. View our products or contact us today.
June 16, 2022