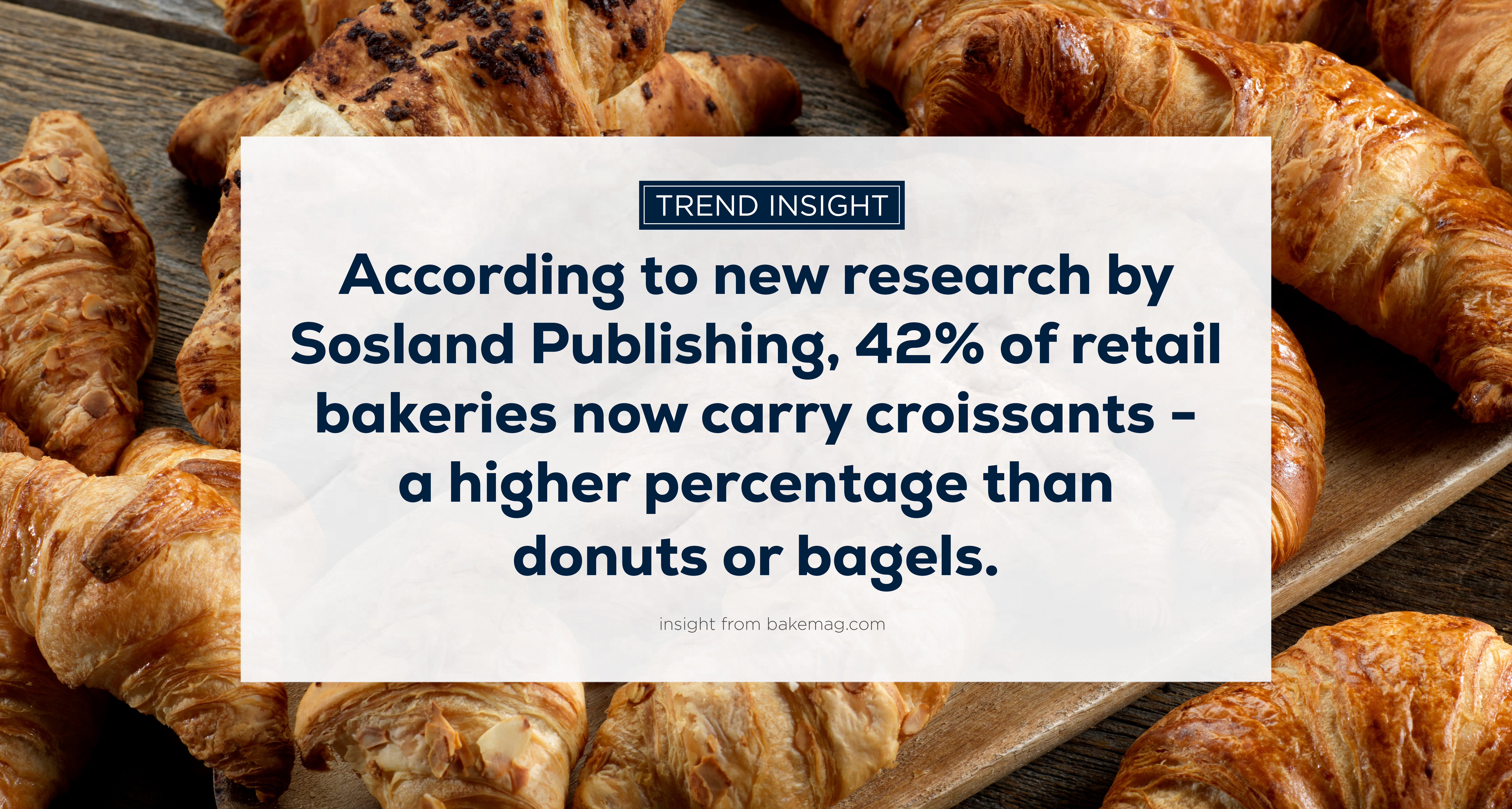 US Blog
Consumers Crave Croissants
As National Croissant Day (Jan 30) approaches, it's the perfect time to share new insights and trends about our favorite French pastry. According to new research by Sosland Publishing, consumers are craving croissants and they continue to surge in popularity in the United States. Given their ability to be transformed into sweet or savory, it's no wonder why croissants are a increasingly popular pastry. The best thing about croissants is that they can be enjoyed in so many different ways throughout any time of the day. Whether they are warmed, filled, topped, fully decorated or used as a sandwich carrier, this flaky and buttery pastry has consumers craving for more.
The History of Croissants
To many, croissants are the quintessential French pastry. However, how many people know exactly how they came to France in the first place? Beginning in Austria, the story of the croissant dates back to 1683 where it descended from the 'kipferl' (or kipfel). The word "Kipferl" is used primarily in Austria to describe a dough that has been bent into the shape of a crescent moon. In Germany, it is usually referred to as "Hörnchen," or little horns. These simple, crescent-shaped cookies became a staple not only in Austria but in other central European countries as well.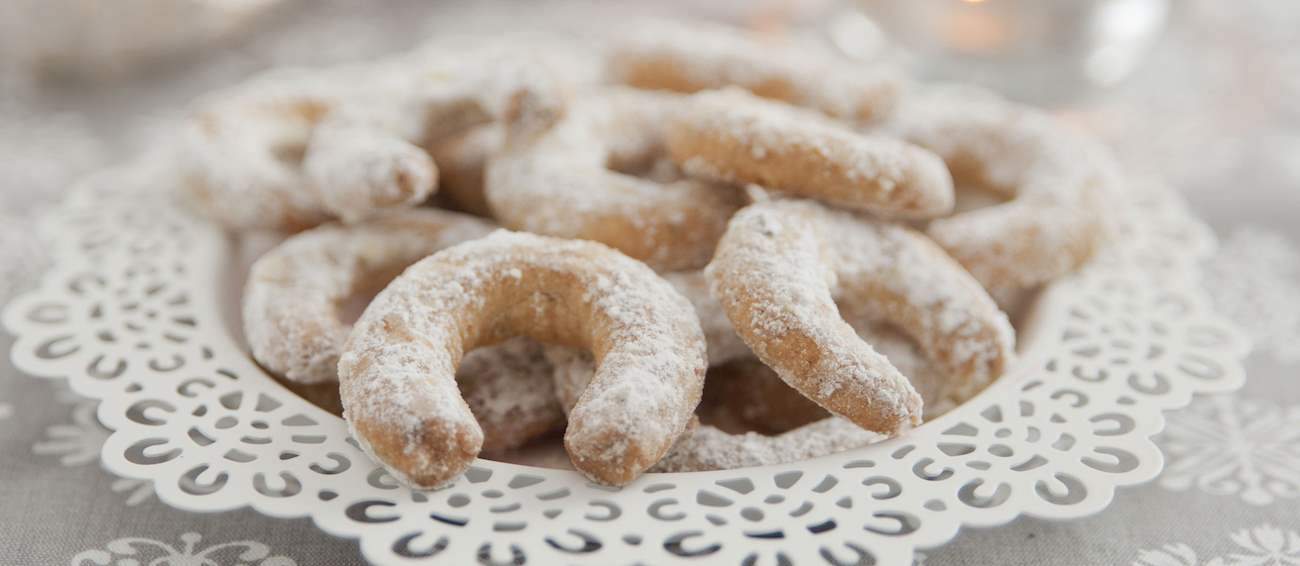 A 'Kipferl' is an Austrian, crescent-shaped pastry that resembles a thinner, denser croissant made with a generous amount of butter and often served topped with sugar and almonds.
When it comes the birth of 'croissants', there are a number of tales about how this Viennese delicacy became France's most beloved pastry. One legend credits the Austrian-born, French queen, Marie Antoinette, for introducing the kipferl to Paris when she married King Louis XVI in 1770. However, historical evidence attributes the real birth of the croissant to August Zang, an Austrian entrepreneur who opened a Viennese-style boulangerie in Paris in 1838. Parisians first encountered what would become the croissant at a small bakery called "Zang's". It wasn't long before these pastries were firmly cemented in Parisian culture, with the French word 'croissant' (meaning 'crescent') replacing the original Austrian name.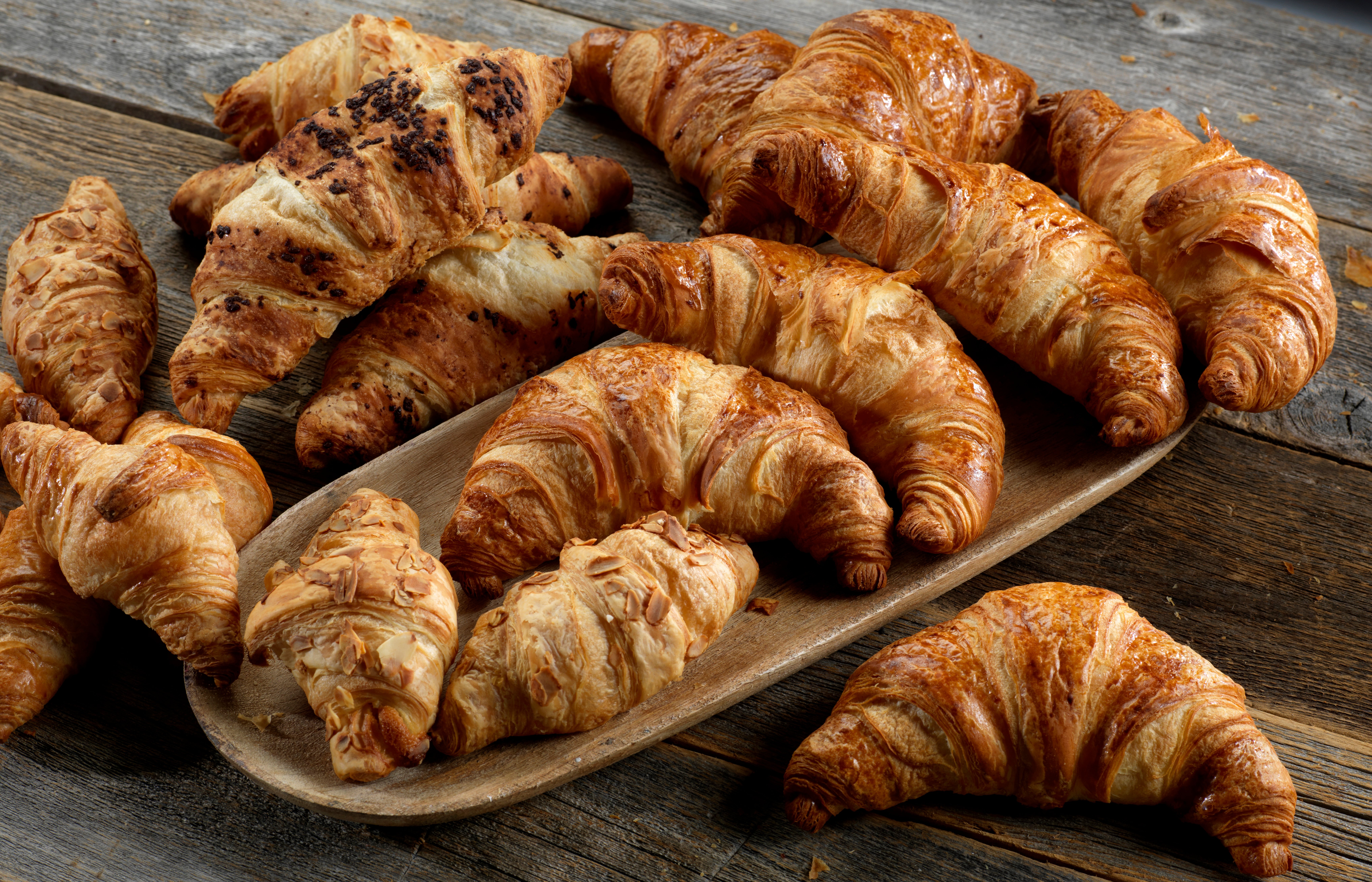 Our quintessential all-butter croissants are made in Belgium using a traditional French recipe for the right taste and light, open texture.
Croissants Rise in Popularity
Croissants, like other French viennoiseries, are made of layered yeast-leavened dough. The dough is layered with butter, rolled and folded several times in succession, then rolled into a thin sheet, in a technique called laminating ("tourage" in French). The process results in a puff pastry.
Today, croissants have conquered the world as their popularity continues to surge. According to new research by Sosland Publishing, 42% of retail bakeries now carry croissants - a higher percentage than donuts and bagels. A recent study valued the size of the global croissant market at USD 6936.95 million in 2022 and is expected to expand at a CAGR of 4.28% during the forecast period, reaching USD 8921.93 million by 2028.
Respondents report they buy premium bakery products most often as a treat for themselves and their families (68%), followed by special celebrations (62%) and gatherings (42%). In addition, quick breakfast items, especially in the bakery, have seen huge growth since 2020. Whether people are eating on the go or having a quick bite with their coffee at home, pastry items allow people to save time and still feel indulgent.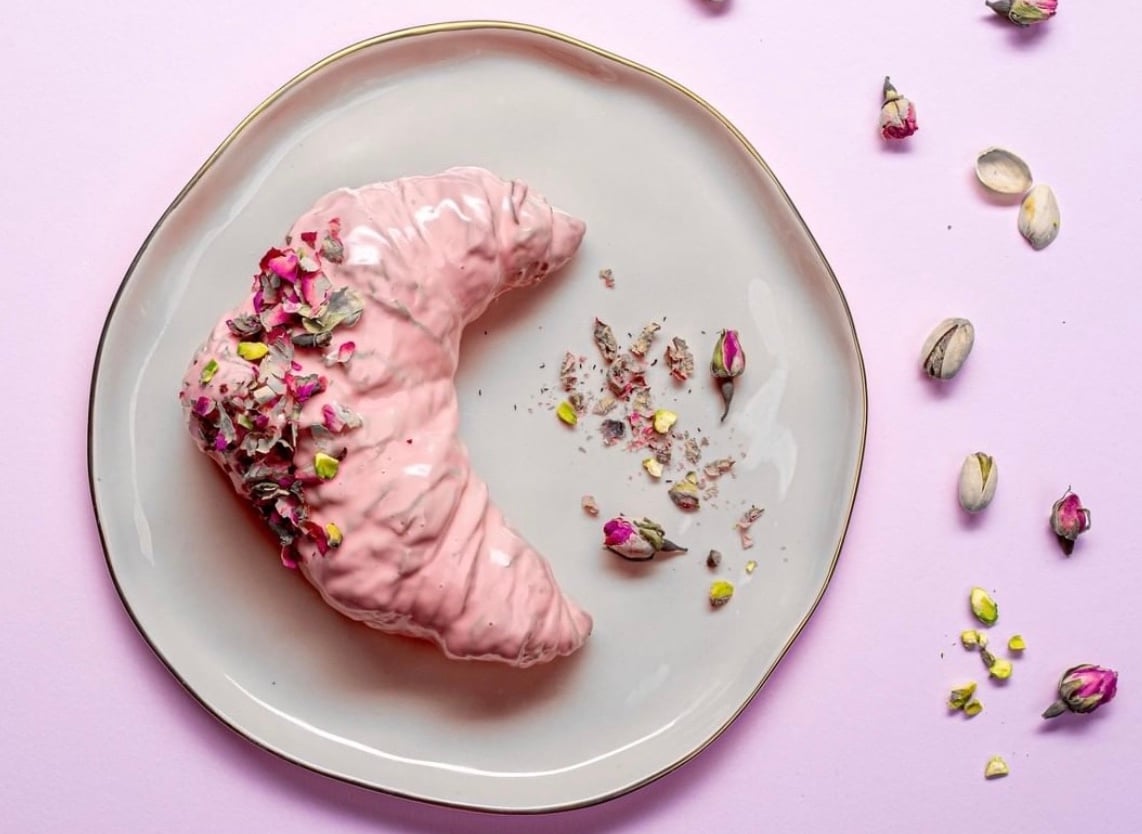 Taste Tomorrow consumer research revealed that 59% of consumers agree that beautiful-looking food creations are tastier.
From Classic to Cutting-Edge
Behold the croissant revolution as people are reimagining what the croissant can be this year. Croissants are competing with doughnuts and patisserie items as they take on new shapes, innovative flavors, colorful swirls, and elaborate decorations. The buttery sheets of dough can be pleated and pinched, folded and braided, rolled and dyed, tied and knotted, and much more. The world's leading pastry chefs are taking the idea of the traditional croissant and letting their imaginations go wild to create the next eye-catching croissant that draws in the crowd.
A decade ago, pastry chef, Dominique Ansel, shocked everyone by deep-frying a round of croissant dough, then filling and frosting it like a jelly doughnut. In 2013, he created the cronut which resembles a doughnut and is made from croissant-like dough filled with flavored cream and fried in grapeseed oil. The Cronut gained its fame quickly by becoming the internet's first celebrity pastry and it generated media attention and long lines that trailed outside the bakery.
Inspired by the Cronut, the Croffle was popularized in South Korea and then spread throughout the world. The Croffle is a hybrid of two beloved breakfast items - a croissant and waffle - and it combines the buttery layers of the croissant with the crispiness of the waffle. In addition, pastry chefs like Cédric Grolet experimented with multiple croissants to create an Epiphany cake by nestling dozens of tiny croissants in a frangipane-lined tart crust. While we've seen other pastry trends come and go, we believe croissant trends are not going anywhere. Professional bakers continue to push the limits of what croissants can do and be. Driven by passion, professional bakers around the world continue to test the boundaries of croissants and we're here for it!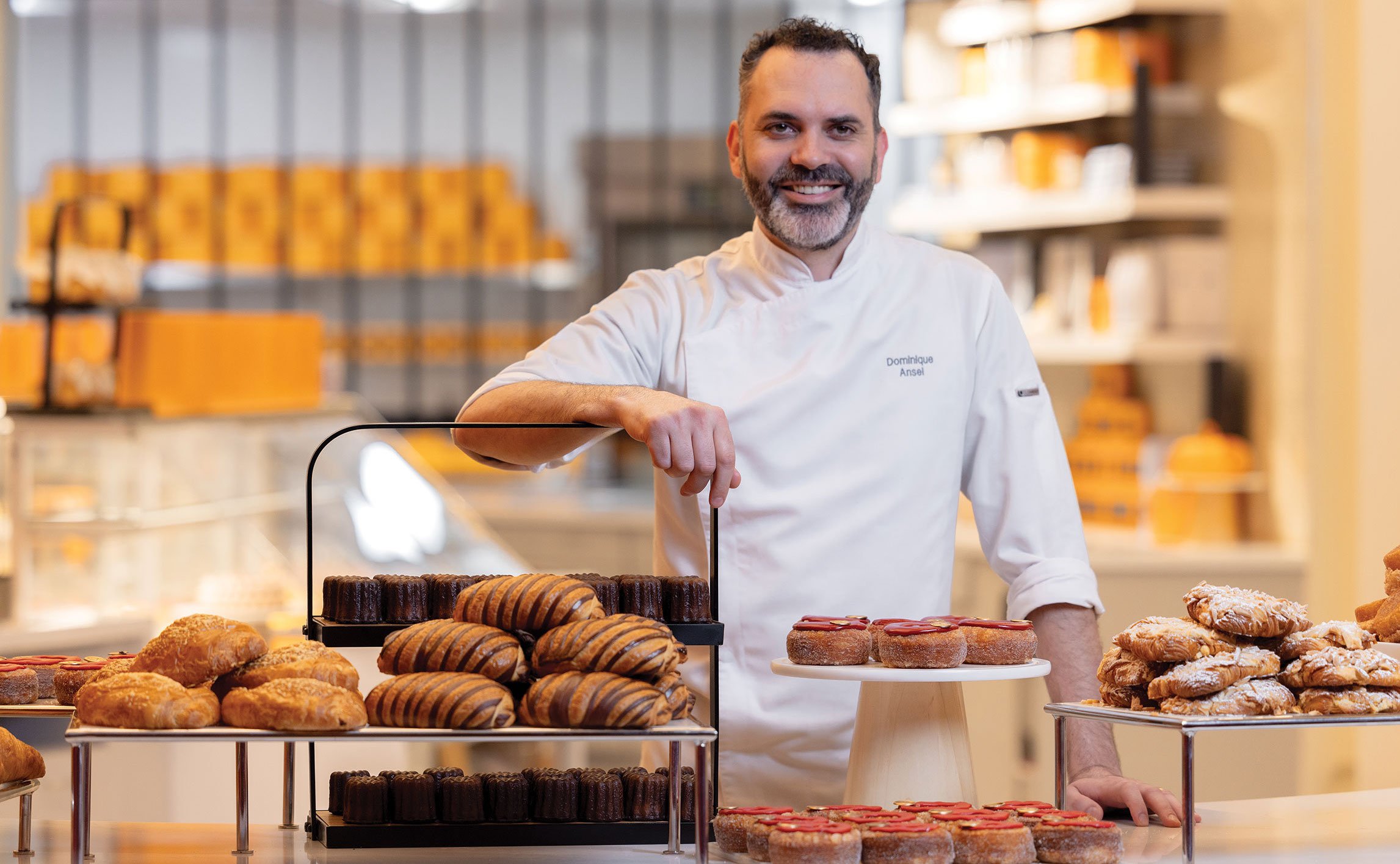 Pastry Chef Dominique Ansel catches attention with the Cronut
Crave-worthy Croissant Recipes
There's nothing like a perfect croissant — buttery, flaky, with soft layers inside a crisp golden shell. When it comes to crave-worthy croissant recipes, we have you covered!
Royal Berries & Cream Croissant: This decadent Royal Berries & Cream Croissant dessert will delight your guests no matter the occasion. When it comes to berries and cream, you can never go wrong with this classic flavor combination. Top it off with golden dust to give the it a more upscale look and impress your guests.
Almond Cream Croissant: Almonds are rich in valuable nutrients for your body and are an excellent addition to any diet since it is a versatile ingredient linked to several health benefits. In addition, they are one of the top trending bakery ingredients, especially when sustainability comes to mind. For this recipe, we combined sweet and smooth almond cream with crunchy slices of toasted almonds to enhance our Schulstad Medium Croissants. Top with powdered sugar and serve with a sprinkle of fresh seasonal berries for an indulgent treat.
Chocolate Dipped Mini Croissants: According to bakery trends, chocolate is a dominant flavor in the pastry category in the United States. Our Chocolate Dipped Mini Croissants are the perfect sweet treat for any occasion. Whether you want to customize them for the season or for a specific holiday, there are endless possibilities with our Schulstad Mini Croissants.
---
Interested in learning more about our products? View our 2023 Digital Product Catalog for more information and recipe inspiration. If you're interested in viewing more trends, insights, recipes and ideas, follow us on LinkedIn, Instagram, Facebook and Pinterest.
@lantmannenunibakeusa @eurobakeusa @schulstadusa
January 8, 2023